Metallica and Philosophy: A Crash Course in Brain Surgery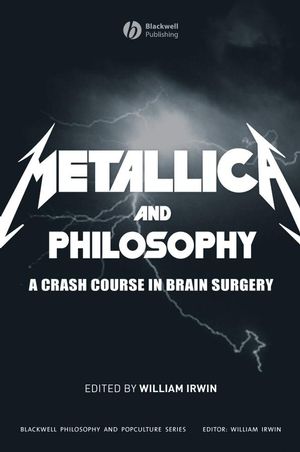 Metallica and Philosophy: A Crash Course in Brain Surgery
ISBN: 978-1-405-16348-4 April 2007 Wiley-Blackwell 272 Pages
Description
Hit the lights and jump in the fire, you're about to enter the School of Rock! Today's lecture will be a crash course in brain surgery. This hard and fast lesson is taught by instructors who graduated from the old school—they actually paid $5.98 for The $5.98 EP. But back before these philosophy professors cut their hair, they were lieutenants in the Metal Militia.



A provocative study of the 'thinking man's' metal band

Maps out the connections between Aristotle, Nietzsche, Marx, Kierkegaard, and Metallica, to demonstrate the band's philosophical significance

Uses themes in Metallica's work to illuminate topics such as freedom, truth, identity, existentialism, questions of life and death, metaphysics, epistemology, the mind-body problem, morality, justice, and what we owe one another

Draws on Metallica's lyrical content, Lars Ulrich's relationship with Napster, as well as the documentary Some Kind of Monster

Serves as a guide for thinking through the work of one of the greatest rock bands of all time

Compiled by the editor of Seinfeld and Philosophy: A Book about Everything and Nothing and The Simpsons and Philosophy: The D'oh! of Homer
Who's Who in the Metal Miltia.
Heroes of the Day: Acknowledgments.
Hit the Lights.
DISC 1 ON THROUGH THE NEVER.
1. Whisper Things Into My Brain: Metallica, Emotion, and Morality.
Robert Fudge.
2. This Search Goes On: Christian, Warrior, Buddhist.
William Irwin.
3. Alcoholica: When Sweet Amber Becomes the Master of Puppets.
Bart Engelen.
4. Through the Mist and the Madness: Metallica's Message of Nonconformity, Individuality, and Truth.
Thomas Nys.
DISC 2 EXISTENSICA: METALLICA MEETS EXISTENTIALISM.
5. The Metal Militia and the Existentialists' Club.
J. Jeremy Wisnewski.
6. The Struggle Within: Hetfield, Kierkegaard, and the Pursuit of Authenticity.
Philip Lindholm.
7. Metallica, Nietzsche, and Marx: The Immorality of Morality.
Peter S. Fosl.
8. Metallica's Existential Freedom: From We to I and Back Again.
Rachael Sotos.
DISC 3 LIVING AND DYING, LAUGHING AND CRYING.
9. To Live is to Die: Metallica and the Meaning of Life.
Scott Calef.
10. Madness in the Mirror of Reason: Metallica and Foucault on Insanity and Confinement.
Brian K. Cameron.
11. Ride the Lightning: Why Not Execute Killers?.
Thom Brooks.
12. Living and Dying as One: Suffering and the Ethics of Euthanasia.
Jason T. Eberl.
13. Fade to Black: Absurdity, Suicide, and the Downward Spiral.
Justin Donhauser and Kimberly A. Blessing.
DISC 4 METAPHYSICA, EPISTEMOLOGICA, METALLICA.
14. Believer, Deceiver: Metallica, Perception, and Reality.
Robert Arp.
15. Trapped in Myself: "One" and the Mind-Body Problem.
Joanna Corwin.
16. Is It Still Metallica? On the Identity of Rock Bands Over Time.
Manuel Bremer and Daniel Cohnitz.
DISC 5 FANS AND THE BAND.
17. Metallica Drops a Load: What Do Bands and Fans Owe Each Other?.
Mark D. White.
18. The Unsocial Sociability of Humans and Metal Gods.
Niall Scott.
19. Boys Interrupted: The Drama of Male Bonding in Some Kind of Monster.
Judith Grant.
20. Justice for All? Metallica's Argument Against Napster and Internet File Sharing.
Robert A. Delfino.
The Phantom Lord's Index
"The most elucidative dissertation on Metallica ever written. And a kick-ass read to boot!!!"
Scott Ian, guitarist for Anthrax<!--end-->
"Like philosophy itself, Metallica's music can scare the uninitiated, who fear their brains will hurt. This book makes both philosophy and Metallica accessible to the curious while deepening the experience of those already in the know."
Theodore Gracyk, author of Rhythm and Noise and Listening to Popular Music

"Metallica and Philosophy is, at long last, the book which finally gives everyone's favorite headbangers due credit for being intelligent, questioning, and even cerebral."
Joel McIver, author of Justice For All: The Truth About Metallica

"Not just heavy metal, not just rock n' roll, not just angst or anger or conceptual analysis, but a monster in a category of its own that shows us something dangerous about ourselves and our post-industrial culture."
Dale Jacquette, Pennsylvania State University

"Intellectual snobs and proud low-brows alike may dismiss this as a joke- though obviously not respected academic publishers Blackwell ... as an introduction to some of the major schools of thought, it is no less worthy than popular books like Sophie's World that have also sought to bring philosophy to the mass market."
Tommy Udo, Metal Hammer

A "provocative study" on one of metal's greatest bands, this paperback examines the connection between Metallica and highly regarded philosophers like Aristotle and Nietzsche, and "uses themes in Metallica's work to illuminate topics such as death, metaphysics, epistemology, the mind-body problem, morality, justice and what we owe one another." Edited by a college professor, chapters include "Alcoholica: When Sweet Amber Becomes The Master Of Puppets," "To Live and Die: Metallica and The Meaning Of Life" and "Boys Interrupted: The Drama Of Male Bonding In Some Kind Of Monster."
Metal Edge Magazine


A provocative study of the 'thinking man's' metal band

Maps out the connections between Aristotle, Nietzsche, Marx, Kierkegaard, and Metallica, to demonstrate the band's philosophical significance

Uses themes in Metallica's work to illuminate topics such as freedom, truth, identity, existentialism, questions of life and death, metaphysics, epistemology, the mind-body problem, morality, justice, and what we owe one another

Draws on Metallica's lyrical content, Lars Ulrich's relationship with Napster, as well as the documentary Some Kind of Monster

Serves as a guide for thinking through the work of one of the greatest rock bands of all time

Compiled by the editor of Seinfeld and Philosophy: A Book about Everything and Nothing and The Simpsons and Philosophy: The D'oh! of Homer