Methods in Educational Research: From Theory to Practice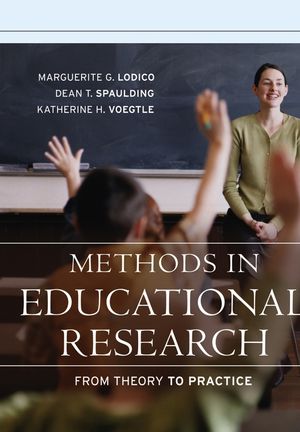 Methods in Educational Research: From Theory to Practice
ISBN: 978-0-787-98595-0
Mar 2006, Jossey-Bass
368 pages
Product not available for purchase
Description
Written for students, educators, and researchers, Methods in Educational Research offers a refreshing introduction to the principles of educational research. Designed for the real world of educational research, the book's approach focuses on the types of problems likely to be encountered in professional experiences. Reflecting the importance of The No Child Left Behind Act , "scientifically based" educational research, school accountability, and the professional demands of the twenty-first century, Methods in Educational Research empowers educational researchers to take an active role in conducting research in their classrooms, districts, and the greater educational community—activities that are now not only expected but required of all teachers.
Tables, Figures, and Exhibits.
Preface.
Acknowledgments.
About the Authors.
1. Introduction to Educational Research.
2. Identifying and Researching a Topic.
3. The Research Proposal.
4. Measurement in Educational Research and Assessment: Preestablished Instruments and Archival Data.
5. Self-Developed Measures and Qualitative Measurement.
6. Working with Research Participants: Sampling and Ethics.
7. Descriptive-Survey Research.
8. Experimental Research.
9. Nonexperimental Approaches: Causal-Comparative and Correlational Research.
10. Analyzing Quantitative Data.
11. Qualitative Research.
12. Mixed-Methods and Action Research.
13. Organization and Analysis of Qualitative Research Data.
14. Program Evaluation in Education.
15. Educational Research Can Make a Difference.
References.
Appendix A: Sample Qualitative Proposal.
Appendix B: Sample Quantitative Proposal.
Appendix C: Calculation of the Standard Deviation.
Index.
"… a very useful introductory text to research in education." (
Psychology Teaching Review
, March 2008)
"Methods in Educational Research: From Theory to Practice is a new attempt to make this subject more relevant and appealing to students. … The focus is on the real world of educational research. … It is filled with useful add-ons, information, writing tips, chapter objectives, research vignettes, practical examples, advance organizers, research proposals, and so on. . . . This book is much more relevant for educational researchers than just a general book on research methodology. It helps the reader to think through and recognize the consequences of—often implicit—choices of research frameworks. Clear diagrams navigate the reader through complex choices such as the development of sound research questions. The authors really tried to make the often complex subjects in the book more understandable. . . Most striking is how useful this book is because it is really grounded in educational research. It is very well written and quite relevant for educational researchers or for the student hoping to become one." –Psycritiques, September, 2007
"I applaud the authors for their attempt to cover a wide range of material. . . . The straightforward language of the book helps make the material understandable for readers. . . . useful for an introductory course." -- Journal of MultiDisciplinary Evaluation, March 2008
Quantitative Foundation. There is a vogue to toss qualitative methods into foundational texts but this book makes no bones that quantitative methods remain the foundation for educational research.
Practical, question-driven approach. Many research texts assume that students will have to write and complete a research proposal. This book uses a well vetted approach in which students learn to write a single question and pick the right methods for answering that question – practical, student-friendly, and easily applied.
Author platform. Spaulding, Lodico, and Voegtle collectively teach 11 sections of ed. research to first year master;s student. They are very active in professional organizations (AEA and AERA), giving seminars on methods of teaching educational research. Spaulding conducts executive education classes for principals in New York's public school system.
Broad audience reach. This book can be marketed into colleges of education and psychology programs.