Milk Processing and Quality Management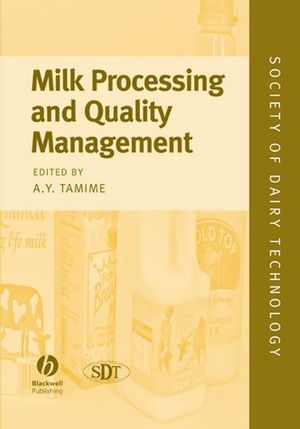 Milk Processing and Quality Management
ISBN: 978-1-405-14530-5 December 2008 Wiley-Blackwell 344 Pages
Description
The Society of Dairy Technology (SDT) has joined with Wiley-Blackwell to produce a series of technical dairy-related handbooks providing an invaluable resource for all those involved in the dairy industry; from practitioners to technologists working in both traditional and modern large-scale dairy operations.
The fifth volume in the series, Milk Processing and Quality Management, provides timely and comprehensive guidance on the processing of liquid milks by bringing together contributions from leading experts around the globe. This important book covers all major aspects of hygienic milk production, storage and processing and other key topics such as:
Microbiology of raw and market milks
Quality control
International legislation
Safety
HACCP in milk processing
All those involved in the dairy industry including food scientists, food technologists, food microbiologists, food safety enforcement personnel, quality control personnel, dairy industry equipment suppliers and food ingredient companies should find much of interest in this commercially important book which will also provide libraries in dairy and food research establishments with a valuable reference for this important area.
Cannot be combined with any other offers.
Cannot be combined with any other offers.
Cannot be combined with any other offers.
Table of contents
Preface to Technical Series.
Preface.
Contributors.
1 On-Farm Hygienic Milk Production (M.M.M. VISSERS AND F. DRIEHUIS).
1.1 Introduction.
1.2 Sources of microbial contamination of bulk tank milk.
1.3 Control of microbial contamination of bulk tank milk.
1.4 Future developments in handling of the milk on the farm.
1.5 Conclusions.
2 Properties and Constituents of Cow's Milk (T. HUPPERTZ AND A.L. KELLY).
2.1 Introduction.
2.2 Milk composition.
2.3 Milk constituents.
2.4 Heat-induced changes in physicochemical properties of milk.
2.5 Heat-induced changes in processing characteristics of milk.
2.6 Relationship between the quality of raw milk and that of products.
2.7 Conclusions.
3 Microbiology of Raw and Market Milks (V. TOUCH AND H.C. DEETH).
3.1 Introduction.
3.2 Microflora of raw milk.
3.3 Microflora of pasteurised milk.
3.4 Microflora of UHT milk.
3.5 Microflora of ESL milk.
3.6 Sources of contamination.
3.7 Measures to reduce bacterial contamination of raw and market milks.
3.8 Conclusion.
4 Quality Control (J. BELLOQUE, R. CHICON AND I. RECIO).
4.1 Introduction.
4.2 Quality control of raw milk.
4.3 Quality control of processed milk.
4.4 Methods of analysis.
4.5 Major components analysis.
4.6 Analysis of fraudulent addition of ingredients and authentication.
4.7 Conclusion.
5 Current Legislation of Market Milks (M. HICKEY).
5.1 Introduction.
5.2 EU legislation.
5.3 UK legislation.
5.4 Irish legislation.
5.5 USA legislation.
5.6 The international perspective – Codex Alimentarius.
5.7 Conclusions and possible future developments.
6 The Safety of Raw Liquid Milk (M. O'MAHONY, S. FANNING AND P. WHYTE).
6.1 Introduction.
6.2 Implication of milk in human disease.
6.3 Microbial hazards in milk.
6.4 Chemical contaminants and residues.
6.5 Poorly understood and emerging hazards.
6.6 Risk management strategies to ensure safety of liquid milk.
6.7 Summation.
7 Heat Treatment of Milk (M.J. LEWIS AND H.C. DEETH).
7.1 Introduction.
7.2 Milk composition.
7.3 Reaction kinetics.
7.4 Principles of heat transfer.
7.5 Thermisation and tyndallisation.
7.6 Pasteurisation.
7.7 Sterilisation – safety and spoilage considerations.
7.8 In-container sterilisation.
7.9 UHT processing.
7.10 High-temperature processing (extended shelf life).
7.11 Reconstituted and recombined milk products.
7.12 Conclusions.
7.13 Appendix.
8 Novel Methods of Milk Processing (M. VILLAMIEL, M.A.I. SCHUTYSER AND P. DE JONG).
8.1 Introduction.
8.2 Microwaves.
8.3 High Pressure.
8.4 Pulsed electric fields.
8.5 Ultrasound.
8.6 Microfiltration.
8.7 Innovative steam injection – a novel heating method.
8.8 Combined technologies.
8.9 Computer models for design and implementation of novel milk-processing methods.
9 Hygiene Practices in Liquid Milk Dairies (A.J. VAN ASSELT AND M.C. TE GIFFEL).
9.1 Introduction.
9.2 Principal hazards.
9.3 Hygienic processing.
9.4 Monitoring and control.
9.5 Concluding remarks.
10 Hazard Analysis (Appraisal) Critical Control Point (HACCP) in Milk Processing – A Practical Overview (A. SAYLER).
10.1 Introduction.
10.2 General aspects of the benefits of the HACCP system.
10.3 HACCP definitions.
10.4 Implementation and maintenance of the HACCP programme.
10.5 Steps to HACCP implementation.
10.6 Hazard components.
10.7 Prerequisite programme.
10.8 The principles of an HACCP plan.
10.9 Internal and external auditing in the HACCP process.
10.10 Overview and summary.
11 Sensory Profiling of Market Milks (E. MOLINA, L. AMIGO AND A. QUIROS).
11.1 Introduction.
11.2 Sensory properties of market milks.
11.3 Different types of market milks.
11.4 Conclusion.
Index.
Reviews
"It should be noted that this book is undeniable valuable for the production of safe food of animal origin because, in spite of the implement HACCP system, the incidence of food poisoning does not diminish, which justifies the need to improve these systems." (International Journal of Dairy Technology, February 2011)

"The book is a welcome and overdue replacement for the Pasteurization Manual from the Society of Dairy Technology. It has succeeded in bringing up to date all aspects of quality management of liquid milk. The section on HACCP is well documented and is of considerable practical value. It is a must for all those involved in production of liquid milks, and should become compulsory reading for students and new entrants to the milk and milk products industry." ( Journal of Dairy Technology, August 2009)
Features


Covers safety, microbiology, processing and qualities of milk

Contains expertise from many internationally acknowledged experts

Part of the Society of Dairy Technology Series

Editor is internationally known and respected

Commercially important information for the dairy industry