Mind Myths: Exploring Popular Assumptions About the Mind and Brain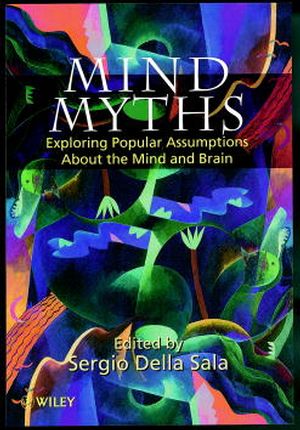 Mind Myths: Exploring Popular Assumptions About the Mind and Brain
ISBN: 978-0-471-98303-3
Mar 1999
312 pages
Description
Currently there is a gap between what scientists know aboutthe mind and brain and the assumptions that others draw from sources of everyday information such as newspapers, popular press and television. Mind Myths attempts to close this gap by bringing together top international neuroscientists and psychologists to provide a fascinating and scientifically reliable insight into the neuropsychological and cognitive phenomena that are frequently reported in the media. A multitude of mind myth topics are tackled, for example
* the resuscitation from coma thanks to a patient's avourite songs
* the creativity of the right hemisphere
* the false memory syndrome
* the placebo effect
* learning while sleeping
"Mind Myths...includes the remarkably persistent fallacy that we only ever use 10% of our brains, the assumption that our right brains function as artistic hippies and our left as desiccated accountants ...the book is written in a lively style and will, I hope, be read widely by science journalists, and others who help perpetuate the various myths... an excellent focus for an undergraduate seminar, providing a stimulating bridge between the psychological laboratory and the rather untilled field of folk psychology." From the Foreword by Alan Baddeley

This unique book will appeal to professionals and students across the psychology and science disciplines and anyone else with an interest in how the brain works in everyday situations.
SECTION 1: BRAIN MYTHOLOGY.

1. Whence Cometh the Myth that We Only Use Ten Percent of Our Brain? (Barry Beyerstein).

2. Are We in Our Right Minds? (Michael C. Corballis).

3. Energy and the Brain: Facts and Fantasies (Fernando D. Saravi).

4. Pseudoscience and the Brain: Tuners and Tonics for Aspiring Superhumans (Barry L. Beyerstein).

SECTION 2: THE TWILIGHT ZONE BETWEEN LIFE AND DEATH.

5. Near-Death Experience and Ecstasy: A Production of the Organisation of the Human Brain (Michael Persinger).

6. Lazarus Syndrome (Ennio De Renzi).

SECTION 3: MYTHS ABOUT MEMORY AND CREATIVE THINKING.

7. Lie Down and Let Me Tell You About Your Childhood... (Maryanne Garry, Susan Frame and Elizabeth F. Loftus).

8. Repetita (Non) Iuvant (Robert H. Logie and Sergio Della Sala).

9. Creative Thinking: Myths and Misconceptions (K. Gilhooly).

SECTION 4: CONTROVERSIAL ISSUES: CLONES, AGEING, AND HYPNOSIS.

10. The Myth of the Clonable Human Brain (G. Berlucchi).

11. When Age Is In, the Wit Is Out? (Pat Rabbitt).

12. Hypnosis (Graham F. Wagstaff).

SECTION 5: THE MULTIFARIOUS ASPECTS OF DECEPTION.

13. I Shall Please: the Mysterious Power of Placebos (Edzard Ernst and Neil C. Abbott).

14. The Magicians Best-Kept Secrets (James Randi).

15.It s All in the Mind. On the Mechanisms of Deception in Psychic Fraud (Massimo Polidoro).

16.Recent Advances in Moving Backwards (Katharine M. Leafhead and Michael D. Kopelman).

SECTION 6: MEDIA WATCH.

17. The Media and the Brain (Toby Howard and Steve Donnelly).