Model-Driven Development with Executable UML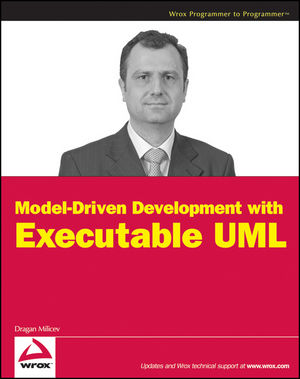 Description
A comprehensive reference for an executable UML and the advantages of modeling This book presents the most up-to-date technology for rapidly developing information systems using the object-oriented paradigm and models, and establishes an executable profile of UML for such model-driven development. As a software developer, architect, or analyst, you'll benefit from learning how information systems can be developed more efficiently using the object-oriented paradigm and model-driven approach.

Written by an expert who is uniquely qualified in the topic, this Wrox reference offers a profile of UML that is formal and executable, instead of the relational paradigm or its incomplete coupling with object orientation. It provides a comprehensive tutorial on model-driven development and UML.
Provides an in-depth tutorial on using model-driven development and UML for building information systems, with extensive examples
Includes tutorials and critics of traditional IS modeling paradigms, such as the relational paradigm, entity-relationship modeling, and the widely used incomplete coupling of object orientation with relational databases
Covers basic object-oriented concepts with UML semantics, like classes and data types, attributes, associations, generalizations, operations and methods
Proposes new powerful concepts for rapid development of information systems including contemporary user interfaces, such as programming by demonstration and others
Model-Driven Development with Executable UML offers a thorough education in this complex topic.
Introduction.
Chapter 1: Information Systems Modeling.
Chapter 2: Traditional Approaches to IS Development.
Chapter 3: The Object Paradigm.
Chapter 4: Getting Started.
Chapter 5: Basic Language Concepts.
Chapter 6: Interaction and Querying.
Chapter 7: General Concepts.
Chapter 8: Classes and Data Types.
Chapter 9: Attributes.
Chapter 10: Associations.
Chapter 11: Constraints.
Chapter 12: Querying.
Chapter 13: Operations and Methods.
Chapter 14: StateMachines.
Chapter 15: Collaborations and Interactions.
Chapter 16: Commands, Presentation, and Architecture.
Chapter 17: About theMethod.
Chapter 18: Conceptual Modeling.
Chapter 19: Modeling Functional Requirements.
Chapter 20: Characteristics of Information Systems.
Chapter 21: Process and Principles of Software Development.
Chapter 22: The Relational Paradigm.
Chapter 23: Structured System Analysis.
Chapter 24: Introduction to the Object Paradigm.
Appendix A: References and Bibliography.
Index.