Model Validation: Perspectives in Hydrological Science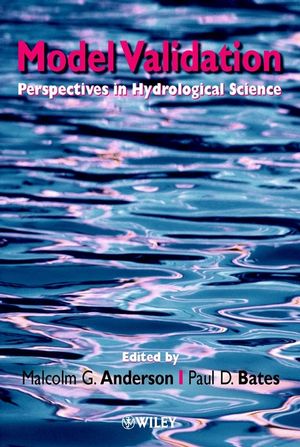 Model Validation: Perspectives in Hydrological Science
ISBN: 978-0-471-98572-3 April 2001 512 Pages
Description
Validation is a central issue to future model design in environmental science. This book is the first to provide a critical appraisal of today's validation needs, capabilities, and required changes in philosophy. It takes examples from four different scales: hillslope and river channel, catchment, regional, and global.

This timely book offers unique, multifaceted coverage of model validation in hydrological science today. Topics covered include calibration procedures, data assimilation, scaling, critical future need in validation, and evidence of field data.
* State-of-the-art research book on an important new topic
* End-of-section discussion chapters written by leading international researchers
Cannot be combined with any other offers.
Table of contents
List of Contributors.

Hydrological Science: Model Credibility and Scientific Integrity (M. Anderson & P. Bates).
Kind of Models (A. Morton & M. Suárez).

Philosophical Issues in Model Assessment (N. Oreskes & K. Belitz).

Calibration, Validation and Equifinality in Hydrological Modelling: A Continuing Discussion ... (K. Beven).

Models in the Courtroom (E. Bair).

On Simulation, Calibration and Ill-conditioning with Application to Environmental System Modelling (C. Dietrich).

Data-Based Mechanistic Modelling and Validation of Rainfall--Flow Processes (P. Young).

The Use of Remote Sensing to Validate Hydrological Models (D. Pearson, et al.).

Soil Water Relations (H. Booltink).

A Hydromechanical Approach to Preferential Flow (P. Germann).

Validation of Snow Models (R. Davis, et al.).

Groundwater (H. Morel-Seytoux).

Validation of Hydraulic Models (P. Bates & M. Anderson).

Modelling Water Quality Processes in Riverine Systems (R. Falconer, et al.).

Modelling Sediment Entrainment into Suspension, Transport and Deposition in Rivers (M. Garcia).

The 'Validation' of Hydrodynamic Models: Some Critical Perspectives (S. Lane & K. Richards).

The Validation of Ice-sheet Models (M. Siegert & A. Payne).

Discussion of Model Validation in Relation to the Regional and Global Scale (J. Refsgaard).

Author Index.

Subject Index.