Modern Spectroscopy, 4th Edition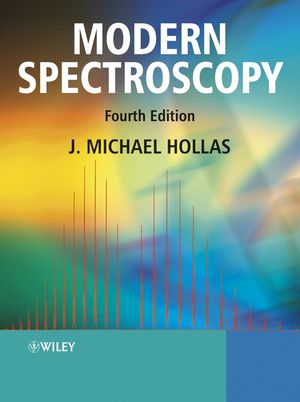 Modern Spectroscopy, 4th Edition
ISBN: 978-0-470-84416-8
Nov 2003
482 pages
Description
The latest edition of this highly acclaimed title introduces the reader to a wide range of spectroscopies, and includes both the background theory and applications to structure determination and chemical analysis.  It covers rotational, vibrational, electronic, photoelectron and Auger spectroscopy, as well as EXAFs and the theory of lasers and laser spectroscopy.
A  revised and updated edition of a successful, clearly written book
Includes the latest developments in modern laser techniques, such as cavity ring-down spectroscopy and femtosecond lasers
Provides numerous worked examples, calculations and questions at the end of chapters
Preface to First Edition.
Preface to Second Edition.
Preface to Third Edition.
Preface to Fourth Edition.
Units, Dimensions and Conventions.
Fundamental Constants.
Useful Conversion Factors.
1. Some Important Results in Quantum Mechanics.
2. Electromagnetic Radiation and Its Interaction with Atoms and Molecules.
3. General Features of Experimental Methods.
4. Molecular Symmetry.
5. Rotational Spectroscopy.
6. Vibrational Spectroscopy.
7. Electronic Spectroscopy.
8. Photoelectron and Related Spectroscopies.
9. Lasers and Laser Spectroscopy.
Appendix A: Character Tables.
Appendix B: Symmetry Species of Vibrations.
Index of Atoms and Molecules.
Subject Index.
"Two valuable features for both students and instructors are a strong final chapter on Lasers and Laser Spectroscopy, and a set of 17 worked examples…" (
Journal of Chemical Education
, January 2005)
"…a good reference for those interested in basic theories behind general spectroscopic techniques. I welcome its presence in my professional library." (Clinical Chemistry, December 2004)
"…this text is well written and the descriptions relating theory to phenomena are clear and well constructed. The book achieves its goal as a well-rounded textbook." (Applied Spectroscopy, August 2004)
Introduces the reader to a wide range of spectroscopies and includes both  the background theory and applications to structure determination and chemical analysis
A  revised and updated edition of a successful, clearly written book
Includes the latest developments including femtosecond lasers and wave packet spectroscopy
Contains more questions at the end of some chapters
Page format has been redesigned