Molecular Mechanisms and Models of Aging, Volume 1119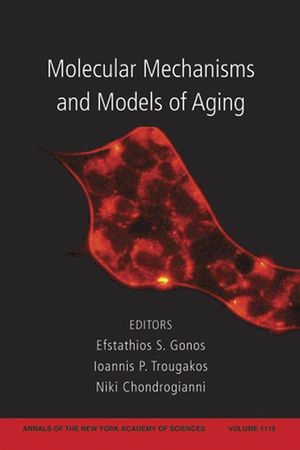 Molecular Mechanisms and Models of Aging, Volume 1119
ISBN: 978-1-573-31686-6
Jan 2008, Wiley-Blackwell
324 pages
Product not available for purchase
Description
Aging is an inevitable consequence of life for nearly all organisms. It mostly reflects the outcome of complicated interactions between genetic factors along with the accumulation of a variety of deleterious stochastic changes over time. Thus, aging is an adaptive process, not caused by a single factor or process, but it is rather a multifactorial procedure modulated by the interplay among genetic and environmental factors. In the coming years, human aging will be one of the biggest challenges faced by industrialized countries as the average life expectancy is continuously increasing.

This volume gathers together contributions from the top scientists and covers the whole range of modern research on aging. More specifically, the following topics are included: replicative senescence, telomeres and telomerase, cancer and aging, DNA repair, free radicals and oxidative stress, proteolysis and proteins maintenance, Immunity, neurodegeneration, model organisms, intervention as well as evolutional and epidemiological aspects.

Overall, increasing our understanding of the aging process at the molecular level and applying available interventions will help to protect and preserve healthy aging.

NOTE: Annals volumes are available for sale as individual books or as a journal. For information on institutional journal subscriptions, please visit www.blackwellpublishing.com/nyas.

ACADEMY MEMBERS: Please contact the New York Academy of Sciences directly to place your order (www.nyas.org). Members of the New York Academy of Science receive full-text access to the Annals online and discounts on print volumes. Please visit http://www.nyas.org/MemberCenter/Join.aspx for more information about becoming a member
Preface:
E.S. Gonos, I.P. Trougakos, and N. Chondrogianni.
Part I: Overview of Mammalian Aging and Senescence:.
1. Clonal attenuation of somatic cells in aging mammals: a review of supportive evidence and its biomedical significance: G. Martin.
Part II: Cell Signaling and Replicative Senescence:.
2. Exposure of human diploid fibroblasts to hypoxia extends proliferative lifespan: E. Poulios, I.P. Trougakos, N. Chondrogianni, E.S. Gonos.
3. Cyclin D1 over-expression permits the reproducible detection of senescent human vascular smooth muscle cells: D.G.A. Burton, A.N. Sheerin, E.L. Ostler, K. Smith, P.J. Giles, J. Lowe, W. Rhys-Williams, D.G. Kipling, R.G.A. Faragher.
Part III: Biomarkers of Aging:.
4. Morphological changes associated with aging: age spots and the micro-inflammatory model of skin aging: E. Goyarts, N. Muizzuddin, D. Maes, P.U. Giacomoni.
5. Molecular mechanisms of skin aging: State of the art: E. Makrantonaki, C.C. Zouboulis.
Part IV: DNA Repair and Aging:.
6. Acquisition of oxidative DNA damage during senescence: the first step towards carcinogenesis?: S. Martien, C. Abbadie.
7. The effect of the histone deacetylase inhibitor, trichostatin A, in human peripheral blood lymphocytes as a function of donor age: T.G. Sourlingas, Y. Ninios, K.P. Kypreou, G.N. Topakas, I.N. Karchilaki, C. Stavropoulos-Giokas, K.E. Sekeri-Pataryas.
Part V: Free Radicals, Oxidative Stress, Proteolysis and Proteins Maintenance:.
8. Transient increased extracellular release of H2O2 during establishment of UVB induced premature senescence: C. Borlon, A. Chretien, F. Debacq-Chainiaux, O. Toussaint.
9. Importance of the Lon Protease in Mitochondrial Maintenance and the Significance of Declining Lon in Aging: J. K. Ngo, K. J. A. Davies.
10. Protein oxidative modifications and replicative senescence of WI-38 human embryonic fibroblasts: T. Jung, N. Bader, T. Grune.
11. Lipofuscin: formation, distribution and metabolic consequences: T. Jung, N. Bader, T. Grune.
Part VI: Intervention:.
12. Stress-Mediated Hormetic Modulation of Aging, Wound Healing and Angiogenesis in Human Cells: S.I.S. Rattan, H. Sejersen, R.A. Fernandes, W. Luo.
13. Retarding aging in humans in reality by diminishing risks to health: Ü. Kristjuhan.
14. Zinc, metallothioneins and longevity. Effect of zinc supplementation: Zincage study: E. Mocchegiani, R. Giacconi, C. Cipriano, L. Costarelli, E. Muti, S. Tesei, C. Giuli, R. Papa, F. Marcellini, E. Mariani, L. Rink, G. Herbein, A. Varin, T. Fulop, D. Monti, J. Jajte, G. Dedoussis, E.S. Gonos, I.P. Trougakos, M. Malavolta.
15. Ghrelin receptor (GHS-R1a) agonists show potential as interventive agents during aging: R.G. Smith, Y. Sun, H. Jiang, R. Albarran-Zeckler, N. Timchenko.
Part VII: Molecular Links between Aging and Cancer:.
16. Functional significance of minor structural and expression changes of stress chaperone mortalin: C.C. Deocaris, N. Widodo, T. Ishii, S.C. Kaul, R. Wadhwa.
17. GRO-alpha: A Potential Marker for Cancer and Aging Silenced by RNA Interference: S. Fimmel, L. Devermann, A. Hermann, C.C. Zouboulis.
18. Caspase-3 and Bcl-2 expression along ageing in adrenal zona reticularis after dexamethasone administration: H. Almeida, L. Matos, D. Neves.
Part VIII: Age-Related Diseases:.
19. Nutraceutical strategy in ageing: Targeting heat shock protein and inflammatory profile via IL-6 polymorphism understanding: F. Marotta, K. Koike, A. Lorenzetti, Y. Naito, F. Fayet, Y. Shimizu, P. Marandola.
20. Role of TLR4 polymorphisms in inflammatory responses: implications for unsuccessful ageing: C.R. Balistreri, G. Candore, F. Listi, T. Fazio, S. Ganci, E. Incalcatera, M. Caruso, M. Li Vecchi, D. Lio, C. Caruso.
21. Pro-NGF, sortilin and age-related neurodegeneration: R. Al-Shawi, A. Hafner, S. Chun, S. Raza, K. Crutcher, C. Thrasivoulou, P. Simons, T. Cowen.
22. Identification of fasting-induced genes in the rat hypothalamus: relationship with neuroprotection: T. Chiba, S. Fujita, H. Kubota, D. Inoue, A. Mizuno, T. Komatsu, H. Yamaza, Y. Higami, I. Shimokawa.
23. Acute myocardial infarction and pro-inflammatory gene variants: F. Licastro, M. Chiapelli, C.M. Caldarera, C. Caruso, D. Lio, E.H. Corder.
24. Bone mineral density in Ukrainan women of different age: V.V. Povoroznyuk, N. Dzerovich, T.A. Karasevskaya.
Part IX: Model Organisms:.
25. Sex-specific effects of the DAF-12 steroid receptor on ageing in Caenorhabditis elegans: D. McCulloch, D. Gems.
26. Modulating longevity in Drosophila by over- and under-expression of glutamate-cysteine ligase: J. Luchak, I. Prabhudesai, R. Sohal, S. Radyuk, W.C. Orr.
27. Modelling Werner's syndrome in Drosophila melanogaster: hyper-recombination in flies lacking WRN-like exonuclease: L. Cox, D.J. Clancy, I. Boubriak, R.D.C. Saunders.
28. Protein synthesis is a novel determinant of ageing in C. Elegans: P. Syntichaki, K. Troulinaki, N. Tavernarakis.
Part X: Evolutionary and Epidemiological Aspects of Aging:.
29. Calorie restriction, post-reproductive life span and programmed aging: a plea for rigour: A.D.N.J. de Grey.
30. Non-pathological senescence arises from unsuitable external influences: A. Khalyavkin, A. Yashin