Music and Dyslexia: A Positive Approach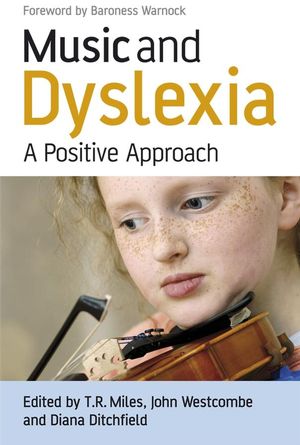 Music and Dyslexia: A Positive Approach
ISBN: 978-0-470-06558-7 February 2008 194 Pages
Description
Music and dyslexia is of particular interest for two reasons. Firstly, research suggests that music education can benefit young dyslexics as it helps them focus on auditory and motor timing skills and highlights the rhythms of language. Secondly, dyslexic musicians at a more advanced level face particular challenges such as sight-reading, written requirements of music examinations and extreme performance nerves.
This is a sequel to the highly successful Music and Dyslexia: Opening New Doors, published in 2001.   The field of dyslexia has developed rapidly, particularly in the area of neuropsychology. Therefore this book focuses on these research advances, and draws out the aspects of music education that benefit young dyslexics. The contributors also discuss the problems that dyslexic musicians face, and several chapters are devoted to sight-reading and specific strategies that dyslexics can use to help them sight-read.  
The book offers practical techniques and strategies, to teachers and parents to help them work with young dyslexics and dyslexic musicians.
Table of contents
Foreword.
List of Contributors.
Preface.
Section I: Tackling Problems.
1. Dyslexia and other developmental Differences (Tim Miles)
2. Things that can go wrong (Tim Miles)
Section II: In and around the Classroom (Christine McRitchie Pratt)
4. Classroom Rhythm games for literacy support (Katie Overy)
5. Early Years: Deirdre Starts to Learn Piano (Olivia McCarth and Diana Ditchfield)
6. Winning Over the Reluctants (Christine McRitchie Pratt, Diana Ditchfield, Sheila Oglethorpe and John Westcombe)
7;. Can Music Lessons Help the Dyslexic Learner? (Sheila Oglethorpe)
8. Parallels Between the Teaching of Musical and Mathematical Notation (Tim Miles)
9. The Paper Work (Diana Ditchfield)
10. Sight-reading (Sheila Oglethorpe)
11. Sight-reading and Memory (Michael Lea)
12. Ten Top Tips and Thoughts (Nigel Clarke)
13. Can Computers Help? Matching the Inner with the Outer Ear (Adam Apostoli)
Section III: Strategies and Success.
14. Positive Connections Across the Generations (Annemarie Sand John Westcombe)
15. Similarities and Differences in the Dyslexic Voice (Paula Bishop-Liebler)
16. Thirty-seven Oboists (Carolyn King)
17. Suzuki Benefits for Children with Dyslexia (Jenny Macmillan)
18. Dyslexia: No Problem (Diana Ditchfield)
Section IV: Science takes Us Forward.
19. Insights from Brain Imaging (Katie Overy)
20. Music Reading: A Cognitive Neuroscience Approach (Lauren Stewart)
Index.
Reviews
"I recommend this humane, grounded and practical collection of essays to anyone with an interest in learning and teaching music." (
Patoss Bulletin
, November 2008)
"A great read for specialist music teachers, advisory staff and anyone wanting to get a real feel for the difficulties faced by our children." (Children and Young People Now, July 2008)