Natural Hierarchies: The Historical Sociology of Race and Caste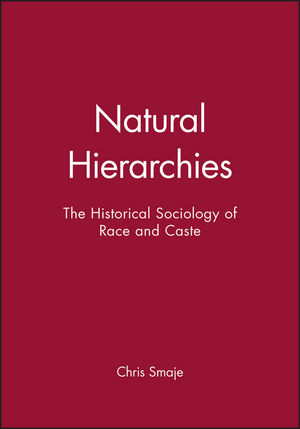 Natural Hierarchies: The Historical Sociology of Race and Caste
ISBN: 978-0-631-20949-2 May 2000 Wiley-Blackwell 302 Pages
Description
This original and provocative text provides an approach to understanding the emergence and development of social rank through race and caste. The struggles we face in race and ethnic relations today are explored through anthropological, historical and sociological lenses to understand the roots of social hierarchy drawing on examples from the Indian subcontinent, the Caribbean, and mainland America.
Table of contents
List of Figures.
Preface.
Part I: Race, Caste, and Hierarchy.
1. Race and Caste as Natural Hierarchies.
2. Race.
3. Caste.
4. Hierarchy.
5. History and Ambivalence: a Place in the Sociological Debate.
Part II: Theoretical Constructions.
6. Introduction.
7. Essentialism and Anti-essentialism.
8. Structure.
9. Culture, Practice, and Symbol.
10. History.
11. Conclusion.
Part III: Economic and Political Formations.
12. Introduction.
13. European capitalism, Indian Capitalism?.
14. Political formations.
15. Europe.
16. India.
17. Nations and Citizenries.
Part IV: Race, Slavery, and Colonialism. .
18. Introduction.
19. Slavery.
20. Race and colonial society.
21. Race and Political Thought in Early Modern Europe.
Part V: Race, Caste and the Person. .
22. Introduction.
23. Race, Caste and Kinship.
24. Caste, kinship, and Gender in India.
25. Race, Kinship, and Gender in the Caribbean.
Part VI: Race, Caste and the Nation. .
26. Introduction.
27. Race and the Creolization in the Caribbean.
28. Euro-creole.
29. Afro-creole.
30. Caudillismo.
31. Caste, communalism, and the Nation in Contemporary India.
Part VII: Hierarchy and Politics. .
32. Hierarchy and a Sociology of Politics.
33. Hierarchy and a Politics of Sociology.
References.
Index.
Reviews
"Natural Hierarchies is an insightful study of the complex ways in which race and social relations are grounded in specific historical and cultural contexts. Through its rare combination of clearly argued theoretical analyses and empirical research it forces all of us working on these questions to rethink our research agendas and key concepts."
John Solomos, South Bank University
<!--end-->
"This wide-ranging book considers political ideologies, European colonialism, and classical and contemporary social theory, especially that of Marx and Levi-Strauss." S. D. Borchert, Lake Erie College.

"an interesting work." Contemporary Sociology

"Smaje's book is a major contribution to the area. It is ambitious, erudite, and insightful." Ethnic and Racial Studies
Features
* Develops sociological theory of how race and status hierarchies are grounded in ideas of natural difference.
* Provides detailed exposition of historical data from Europe, the Americas, and the Indian subcontinent
* Offers critique of contemporary identity politics.