No More Consultants: We Know More Than We Think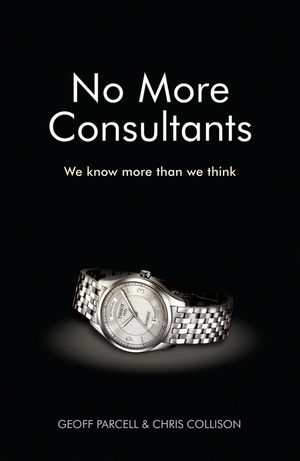 No More Consultants: We Know More Than We Think
ISBN: 978-0-470-74603-5
Sep 2009
252 pages
Product not available for purchase
Description
This book provides you with the tools to tap into the capabilities that already exist in your organization, but are as yet inaccessible. The book shows you how to make maximum use and accessibility of existing knowledge by implementing a successful tool, The River Diagram.  This tool will help reveal your organization's strengths and weaknesses, which will aid you in resolving an internal problem. Illustrated using an exciting range of case studies including BP, Oracle, UNAIDS, and others, this book will guide you towards saving both time and money.
Foreword.
Preface.
1 Introduction - Why No More Consultants?
Five Key Questions.
How to Read No More Consultants.
Chapter by Chapter.
2 Discovering the River.
Forming the River.
Beating Consultants at Their Own Game.
Spotting the Potential for Learning and Sharing.
Examining the Distribution of Performance.
Watching the River Over Time.
3 Building the Framework.
Deciding Who to Involve.
Identifying and Selecting the Practices.
Deciding the Variables.
Defining the Levels.
Developing our 'Effective Meetings' Example.
Story 1 – Using Self-assessment to Unite a Consortium of Companies.
Story 2 – Helping UK Government Departments to Develop and Learn.
The Benefits of Global Rather than Local Frameworks.
Defining the Strategy.
4 Applying the Approach.
It's All About the Conversations.
Involving the Procrastinators.
The Environment.
Story 3 – Responding to AIDS in Brazil.
Sharing Experience Within a Framework.
It is Subjective, and De-personalises the Emotion.
It Challenges Our Assumptions.
The Focus for Improvement.
Finding Ways to Close the Gap in Performance.
Story 4 – Developing Professional Communities in Oracle.
Story 5 – Assessing Knowledge Management in UK Regional Government Offices.
Story 6 – Linking the Supply Chain.
Launching and Going to Scale.
5 The Role of the Facilitator.
What Are the Attributes of a Good Facilitator?
What Does a Facilitator Do?
6 Creating the River.
Constructing the River Diagram on Paper.
Innovative and Practical Ways to Visualise a River Diagram.
Creating the Stairs Diagram.
Story 7 – Developing a Knowledge Culture in the National Health Service.
7 Learning from Experience.
Offers and Requests.
Learning from Experience Through a Peer Assist.
Story 8 – Organic Rice Farming in Thailand.
Story 9 – Peers in Unexpected Places – When Great Ormond Street Hospital Met Ferrari!
Barriers to Sharing.
Tall Poppy Syndrome.
Shrinking Violet Syndrome.
Not Invented Here Syndrome.
Real Men Don't Ask for Directions.
8 Improving and Sustaining.
Measuring Progress.
Leading and Lagging Indicators.
Modifying the Framework.
Local Customisation.
External Benchmarking – Towards Level Six.
Story 10 – The Sustainable Development of Cities.
9 So What Do We Do Now?
Appendices.
Appendix A Self-Assessment Framework for Effective Meetings.
Appendix B Learning and Development Self-Assessment Framework.
Appendix C Creating a River Diagram with Excel.
Appendix D Knowledge and Organisation Development in the NHS.
Further Reading.
Index.
"…an easy read, taking you step by step through an approach to identifying strengths within your business." (Supply Management, March 2010)
·         An innovative and practical guide for business practitioners showing how to mine the existing knowledge of the organization without the need for consultants
·         Demonstrates a unique tool called The River Diagram to apply this theory
·         Saves businesses time and money by reducing the need for external help
·         Illustrated using an exciting range of case studies including BP, Oracle, UNAIDS, the NHS and Nationwide Building Society