Nursing Diagnoses 2009-2011: Definitions and Classification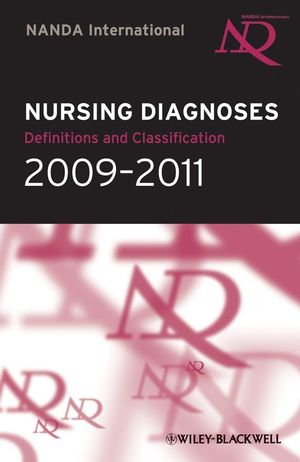 Nursing Diagnoses 2009-2011: Definitions and Classification
ISBN: 978-1-405-18718-3
Oct 2008, Wiley-Blackwell
464 pages
Product not available for purchase
Description
A nursing diagnosis is defined as a clinical judgement about individual, family or community responses to actual or potential health problems or life processes which provide the basis for selection of nursing interventions to achieve outcomes for which the nurse is accountable.

Accurate and valid nursing diagnoses guide the selection of interventions that are likely to produce the desired treatment effects and determine nurse-sensitive outcomes. Nursing diagnoses are seen as key to the future of evidence-based, professionally-led nursing care – and to more effectively meeting the need of patients and ensuring patient safety. In an era of increasing electronic patient health records standardized nursing terminologies such as NANDA, NIC and NOC provide a means of collecting nursing data that are systematically analyzed within and across healthcare organizations and provide essential data for cost/benefit analysis and clinical audit.

'Nursing Diagnoses: Definitions and Classification' is the definitive guide to nursing diagnoses worldwide. Each nursing diagnoses undergoes a rigorous assessment process by NANDA-I with stringent criteria to indicate the strength of the underlying level of evidence.

Each diagnosis comprises a label or name for the diagnosis and a definition. Actual diagnoses include defining characteristics and related factors. Risk diagnoses include risk factors. Many diagnoses are further qualified by terms such as effective, ineffective, impaired, imbalanced, readiness for, disturbed, decreased etc.

The 2009-2011 edition is arranged by concept according to Taxonomy II domains (i.e. Health promotion, Nutrition, Elimination and Exchange, Activity/Rest, Perception/Cognition, Self-Perception, Role Relationships, Sexuality, Coping/ Stress Tolerance, Life Principles, Safety/Protection, Comfort, Growth/Development). The book contains new chapters on 'Critical judgement and assessment' and 'How to identify appropriate diagnoses' and core references for all nursing diagnoses. A companion website hosts NANDA-I position statements, new PowerPoint slides, and FAQs for students.
2009-2011 edition arranged by concepts
New chapters on 'Critical judgement and assessment' and 'How to identify appropriate diagnoses'
Core references for new diagnoses and level of evidence for each diagnosis
Companion website available
NANDA International Guidelines for Copyright Permission.
Preface.
Introduction.
Part 1 An Introduction to Nursing Diagnoses: Accuracy, Application Across Setting, and Submission of Nursing Diagnoses to NANDA-I 2009–2011.
Assessment, Clinical Judgment, and Nursing Diagnoses: How to Determine Accurate Diagnoses (Margaret Lunney).
Nurses are Diagnosticians.
Intellectual, Interpersonal and Technical Competencies.
Personal Strengths: Tolerance for Ambiguity and Refl ective Practice.
Assessment and Nursing Diagnosis.
Assessment Framework.
Validating Diagnoses.
Case Study Example.
References.
Appendix: Functional Health Pattern Assessment Framework.
Directions.
Nursing Diagnosis in Education (Martha Craft-Rosenberg and Kelly Smith).
Assessment and Identifying Defining Characteristics.
History and Identifying Related Factors.
Selecting the Nursing Diagnosis Label.
Risk Diagnoses.
Health-Promotion Diagnoses.
Wellness Diagnoses.
Prioritizing Diagnoses.
Linking Nursing Diagnoses to Outcomes and Interventions.
References.
The Value of Nursing Diagnoses in Electronic Health Records (Jane Brokel and Crystal Health).
References.
Nursing Diagnosis and Research (Margaret Lunney).
Concept Analyses.
Construct and Criterion-Related Validity.
Consensus Validation.
Studies of Accuracy of Nurses' Diagnoses.
Summary.
References.
Nursing Diagnosis in Administration (Dickon Weir-Hughes).
Why Implement Nursing Diagnosis in a Clinical Environment?
Evidence-based Practice: Integrating Theory and Practice.
Nursing in the Era of Electronic Patient Records.
Leading the Implementation of Nursing Diagnosis in Clinical Practice.
Conclusion.
References.
The Process for Development of an Approved NANDA-I Nursing Diagnosis (Leann M. Scroggins).
Axis 1: The Diagnostic Concept.
Axis 2: Subject of the Diagnosis.
Axis 3: Judgment.
Axis 4: Location.
Axis 5: Age.
Axis 6: Time.
Axis 7: Status of the Diagnosis.
Defi ning Characteristics versus Risk Factors.
References.
Part 2 NANDA-I Nursing Diagnoses 2009–2011
Domain 1.
Health Promotion.
Domain 2.
Nutrition.
Domain 3.
Elimination and Exchange.
Domain 4.
Activity/Rest.
Domain 5.
Perception/Cognition.
Domain 6.
Domain 7.
Role Relationships.
Domain 8.
Sexuality.
Domain 9.
Coping/Stress Tolerance.
Domain 10.
Life Principles.
Domain 11.
Safety/Protection.
Domain 12.
Comfort.
Domain 13.
Growth/Development.
Part 3 Taxonomy II 2009–2011.
History of the Development of Taxonomy II.
Structure of Taxonomy II.
The Multiaxial System.
Defi nitions of the Axes.
Construction of a Nursing Diagnostic Statement.
The NNN Taxonomy of Nursing Practice.
Further Development of the NANDA-I Taxonomy.
References.
Part 4 Nursing Diagnoses Retired from the NANDA-I Taxonomy 2009–2011.
Total Urinary Incontinence.
Rape-Trauma Syndrome: Compound Reaction.
Rape-Trauma Syndrome: Silent Reaction.
Effective Therapeutic Regimen Management.
Ineffective Community Therapeutic Regimen Management.
Disturbed Thought Processes.
Part 5 NANDA International 2009–2011.
Full Review Process.
Expedited Review Process.
Submission Process for New Diagnoses.
Submission Process for Revising a Current Nursing Diagnosis.
Procedure to Appeal a DDC Decision on Diagnosis Review.
NANDA-I Diagnosis Submission: Level of Evidence Criteria.
Glossary of Terms.
Nursing Diagnoses.
Components of a Nursing Diagnosis.
Defi nitions for Classifi cation of Nursing Diagnoses.
References.
NANDA International 2006–2008.
NANDA International Board of Directors.
NANDA International Diagnosis Development Committee.
NANDA International Taxonomy Committee.
An Invitation to Join NANDA International.
NANDA International's Commitment.
Involvement Opportunities.
NANDA International: A Member-driven Organization.
Our Vision.
Our Mission.
Our Purpose.
Our History.
Nanda International Taxonomy.
Index.
Resources & Downloads


If you are unable to view the PowerPoint files, you can download the free reader from Microsoft.

Investigating the Diagnostic Language of Nursing Practice

Download
Submitters of Nursing Diagnoses 2008: New and Revised Diagnoses

Download
The NANDA International Taxonomy

Download
Tips for Teaching Nursing Diagnosis and the Use of NANDA International Terminology

Download
The Development and Refinement of Nursing Diagnoses

Download
Nursing Diagnosis in Health Care Organizations

Download
Position Statements for Nursing Education


If you are unable to view the PDF files, you can download the free reader from Adobe.

The Use of Taxonomy II as an Assessment Framework

Download
The Structure of the Nursing Diagnosis Statement When Included in a Care Plan

Download


2009-2011 edition arranged by concepts

New chapters on 'Critical judgement and assessment' and 'How to identify appropriate diagnoses'

Core references and level of evidence for each diagnosis

Companion website available