Occupational Health Psychology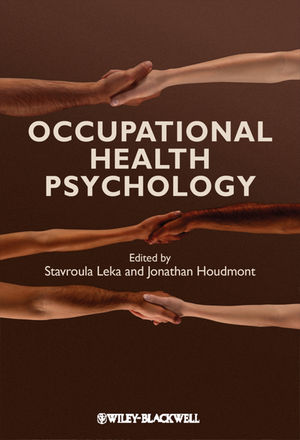 Occupational Health Psychology
ISBN: 978-1-405-19115-9 April 2010 Wiley-Blackwell 362 Pages
Description
This ground-breaking textbook is the first to cover the new and rapidly developing field of occupational health psychology.
Provides a thorough introduction to occupational health psychology and an accessible overview of the key themes in research and practice
Each chapter relates to an aspect of the core education curriculum delineated by the European Academy of Occupational Health Psychology
Written by internationally recognized experts in the field
Examines a host of contemporary workplace health issues, including work-related stress; the psychosocial work environment; positive psychology and employee well-being; psychosocial risk management; workspace design; organizational research methods; and corporate culture and health
About the Editors.
Notes on Contributors.
Preface.
1 An Introduction to Occupational Health Psychology (Jonathan Houdmont and Stavroula Leka).
2 Work-Related Stress: A Theoretical Perspective (Tom Cox and Amanda Griffiths).
3 Work Organization and Health (Michael P. O'Driscoll and Paula Brough).
4 Interventions to Promote Well-Being at Work (Raymond Randall and Karina Nielsen).
5 Psychosocial Risk Management at the Workplace Level (Stavroula Leka and Tom Cox).
6 Workplace Health Promotion (Andrew J. Noblet and John J. Rodwell).
7 Positive Occupational Health Psychology (Arnold B. Bakker and Daantje Derks).
8 The Physical Workspace: An OHP Perspective (Phil Leather, Tony Zarola, and Angeli Santos).
9 Corporate Culture, Health, and Well-Being (Gerard Zwetsloot and Stavroula Leka).
10 Research Methods in Occupational Health Psychology (Toon W. Taris, Annet H. de Lange, and Michiel A. J. Kompier).
11 Future Directions in Occupational Health Psychology (Jonathan Houdmont and Stavroula Leka).
Author Index.
Subject Index.
""Though, as may be expected, some chapters are stronger as a review than others, this first volume of a series on contemporary OHP by Nottingham University and Wiley-Blackwell is a commendable initiative."" (Scandinavian Journal of Work, 2011)
""It is of interest for all those involved with the protection and promotion of workers' health and safety. For occupational health professionals, it enables a deeper understanding of the roots of many commonly encountered work problems and helps improve the quality of advice given as well as to help refine practice."" (Occupational Medicine, 1 March 2011)
""Since its emergence as a discipline in the 1990s, occupational health psychology has generated a wealth of scientific knowledge on work-related stress and wider organisational issues associated with individual and organisational health. This text aims to provide a comprehensive introduction to the discipline and a reader-friendly overview of the key themes in research and practice."" (Times Higher Education, November 2010)