Oil Painting For Dummies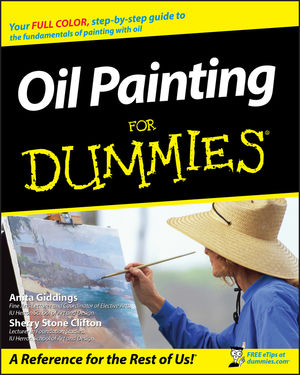 Oil Painting For Dummies
ISBN: 978-0-470-18230-7 February 2008 320 Pages
Description
Nobody ever said that oil painting was easy. But it gets much easier and a lot more fun when you follow a step-by-step approach that starts you off on the right foot, helps you build your skills one at a time, and gives you plenty of exercises to develop your craft. That's what you'll find in Oil Painting For Dummies.

Completely free of arty jargon, this full-color guide has all the hands-on instruction you need to master the basics. You'll see how to plan a painting, build an image in layers, mix colors, and create stunning compositions. You'll also find everything you need to know about oil paints, solvents, and pigments; brushes, palettes, and painting surfaces; and how to keep costs down at the art supply store. Discover how to:
Choose the right supplies
Set up your studio and care for your equipment
Handle your materials safely
Develop your design and composition skills
Make practice sketches and studies
Use broken stroke, dry brush, glazing, scraffito and other brush strokes
Try out different compositions
Mix any color you want
Simplify tricky still-life subjects
Paint landscapes and common objects out doors
Paint portraits and the human form
Complete with handy color chart, basic materials list, and a very useful viewing square, Oil Painting For Dummies is the fun and easy way to discover your inner artist!
Introduction.
Part I: Getting Your Feet Wet in Oil Paint.
Chapter 1: So You Want to Paint.
Chapter 2: Getting to Know Your Oils.
Chapter 3: Assembling Your Materials.
Chapter 4: Preparing to Paint.
Chapter 5: Walking Through the Painting Process.
Part II: Break Out the Brushes and Start Painting!
Chapter 6: A Study in Black and White.
Chapter 7: Mixing Color and Three Oil Studies.
Chapter 8: Putting Paint to Canvas: Brushstrokes and Glazing Techniques.
Part III: People, Places, and Things.
Chapter 9: Tricky Still Life Subjects Made Easy.
Chapter 10: Take It Outside: Landscapes.
Chapter 11: Basic Portrait Painting 101.
Chapter 12: Beyond Portraiture: More on Painting People.
Part IV: Color and Design.
Chapter 13: Planning Your Painting.
Chapter 14: Shape, Space, and the Surface of Your Painting.
Chapter 15: How the Parts of a Composition Work Together.
Chapter 16: Communicating Ideas Visually.
Chapter 17: Using Color with Confidence.
Part V: The Part of Tens.
Chapter 18: Ten Strategies to Immediately Improve Your Painting.
Chapter 19: Ten Artists You Should Know: The Painter's Painters.
Index.