Paediatric and Neonatal Safe Transfer and Retrieval: The Practical Approach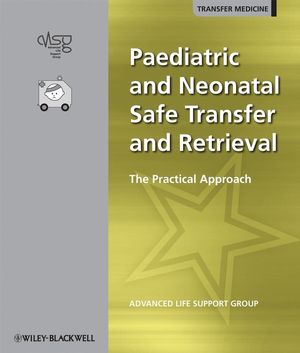 Paediatric and Neonatal Safe Transfer and Retrieval: The Practical Approach
ISBN: 978-1-405-16919-6 June 2008 BMJ Books 208 Pages
Description
With over ten thousand inter-hospital transfers of children and neonates now taking place every year in the UK, this book, and the associated training course run by the Advanced Life Support Group (ALSG) have been developed to provide an introduction to the knowledge required to undertake these transfers.
Paediatric and Neonatal Safe Transfer and Retrieval (PaNSTaR) is aimed at healthcare professionals either beginning their training in paediatric or neonatal transport and those who are involved in undertaking such transfers on an occasional basis.

Developed by a multi-professional group from across the UK, this new title incorporates a systematic approach throughout. This approach is adapted from the adult STaR course and covers the following:



an overview of the current delivery of children's transport services

the ACCEPT approach
- Assessment
- Control
- Communication
- Evaluation
- Preparation and Packaging
- Transportation

practical issues that are encountered during the transfer process from both an equipment and a clinical perspective

special considerations and circumstances that require additional planning

useful appendices that contain supporting information, sample checklists and example documentation.
For more details on the ALSG training courses please visit the ALSG website at www.alsg.org
Table of contents
Working group.
Contributors.
Preface.
Acknowledgements.
Contact details and website information.
Part I: Introduction.
Chapter 1 Introduction.
Chapter 2 The structured approach to transfers.
Part II: Managing the transfer.
Chapter 3 Assessment and control.
Chapter 4 Communication.
Chapter 5 Evaluation.
Chapter 6 Preparation and packaging.
Chapter 7 Transportation.
Chapter 8 Putting ACCEPT into practice.
Part III: Practical aspects of paediatric and neonatal transfer medicine.
Chapter 9 Oxygen therapy and monitoring.
Chapter 10 Securing and packaging.
Part IV: Assessment and clinical aspects of transfer medicine.
Chapter 11 Introduction to the clinical assessment of children.
Chapter 12 Specifi c clinical conditions.
Part V: Special considerations.
Chapter 13 Parent support.
Chapter 14 Air transfers: an introduction.
Chapter 15 Transfers and management of the child for scans in the radiology department.
Chapter 16 Transporting the child with a diffi cult airway.
Chapter 17 Keeping safe in the transport environment.
Chapter 18 The infectious or contaminated child.
Chapter 19 Governance, legal and insurance issues.
Chapter 20 Documentation.
Part VI: Appendices.
Appendix A Intensive care levels: classifi cation of ICU patient dependency.
Appendix B The PaNSTaR transfer master: a summary of ACCEPT.
Appendix C Transfer aide-memoire.
Appendix D Checklists.
Appendix E Generic referral form.
Appendix F Transfer competences.
Appendix G Glossary.
Appendix H References and further information.
Index.
.
.
.
What's New


A practical guide which provides an introduction to the knowledge required to undertake the transfer of sick children and neonates


An excellent reference for those regularly involved in transfers or for the non-specialist team required to undertake occasional transfers


Developed by a multiprofessional group of experts from across the UK


Closely linked to the STaR (Safe Transfer and Retrieval) ALSG courses and uses the ACCEPT approach throughout the text.