Paediatrics: Clinical Cases Uncovered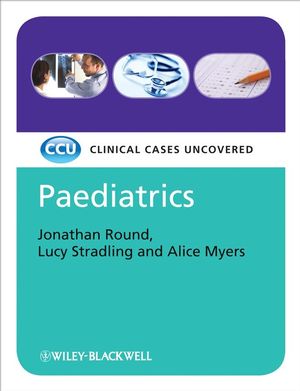 Paediatrics: Clinical Cases Uncovered
ISBN: 978-1-405-15984-5 July 2008 Wiley-Blackwell 198 Pages
Description
First Prize in the Paediatrics category at the British Medical Association Book Awards 2009
Rehearse for life in clinical practice with this easy-to-use and unique series, which combines cases drawn from real-life experiences with a refreshing approach to presentations as you would see them in day-to-day situations.
Get the most from clinical practice, with Clinical Cases Uncovered

Guiding you through paediatrics, Clinical Cases Uncovered presents real-life problems which you can work through and improve on time and again. Each case looks at a different child, from premature infant to teenager, with acute or long-term problems. Presentations reflect common primary care and hospital-based practice and will give you a detailed insight into how children with a wide variety of problems can be assessed and managed.

The first section covers essential paediatric basics, then looks at common disorders and useful pointers. There is a section on practical assessment of children, helping you adapt your skills for the age of the child and the presenting problem. The helpful self-assessment section then lets you test all you have learnt and makes for great revision.

For further information, visit www.clinicalcasesuncovered.com
Table of contents
Preface.
Acknowledgements.
How to use this book.
List of abbreviations.
Part 1 Basics.
Essential paediatrics.
Assessment of children.
Useful pointers in paediatrics.
Part 2 Cases.
Case 1 The tiny baby.
Case 2 The sick preterm baby.
Case 3 The baby with breathing difficulties.
Case 4 The blue baby.
Case 5 The jaundiced baby.
Case 6 Is my baby alright?.
Case 7 The febrile infant.
Case 8 The vomiting baby.
Case 9 The lethargic baby.
Case 10 The thin infant.
Case 11 The odd-looking baby.
Case 12 Ralph's lumpy groin.
Case 13 The noisy breather.
Case 14 The disruptive little boy.
Case 15 The grumpy toddler.
Case 16 The boy with fits.
Case 17 The colicky infant.
Case 18 The slow walker.
Case 19 The toddler with diarrhoea.
Case 20 The swollen child.
Case 21 Yet another chest infection.
Case 22 The drowsy child.
Case 23 The breathless child.
Case 24 A sore throat.
Case 25 The short child.
Case 26 Swollen knees and a rash.
Case 27 The asthmatic teenager.
Case 28 The limping boy.
Case 29 A nasty chest infection.
Case 30 A bruised toddler.
Case 31 The teenager who has taken an overdose.
Case 32 Cough.
Part 3 Self-assessment.
MCQs.
EMQs.
SAQs.
Answers.
Appendix: Normal ranges in children.
Index of cases by diagnosis.
Index.
Reviews
"I have purchased three of your books: Paediatics, Obstetrics & Gynaecology, and Haematology. I have found the story-telling style and the level of detail contained in the cases to be balanced nicely so that it retains a realism that other case books lack and that reader remains engaged in the outcome of the investigations and the end-point of the case. All in all, these series make for interesting and entertaining reads which ultimately renders them an excellent learning tool." -
Medical Student,Trinity College Dublin
"I would be very happy if my medical studetns read this book before an attachment! I think this format is excellent...it encourages the students to think clearly about real patients and not just learn facts in isolation." - Honorary Leturer, University of Leeds

"This book covers a very wide range of material, from neonatal medicine in the sick preterm infant to the teenager who has taken an averdose. It contains a large number of cases which are all relevent to medical student learning...each case study gives details of relevent questions to ask in the history, examination findings and management plans...an excellent resource for final exam revision." - MSc Student, University of Liverpool Medical School

"Fantastic. Very impressed and very easy to read...relevent cases and good layout." - Final Year Student, Warwick Medical School
Features


A new paediatrics title for medical students with a unique case based approach

Includes an introductory section on the approach to the patient and backgroud information on how paediatrics differs from other specialties

Cases are divided into four sections covering: Neonates, Infants and Toddlers, Early Childhood and Middle Childhood and Adolescence

An ideal companion to paediatric attachments or rotations