Paradoxes Of Segregation: Housing Systems, Welfare Regimes and Ethnic Residential Change in Southern European Cities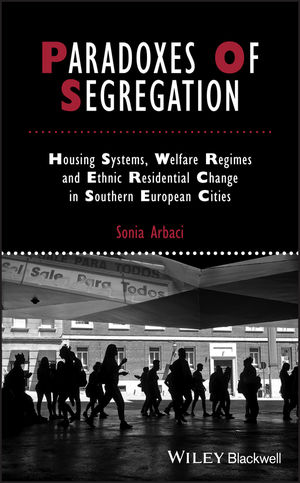 Paradoxes Of Segregation: Housing Systems, Welfare Regimes and Ethnic Residential Change in Southern European Cities
ISBN: 978-1-444-33833-1 April 2019 Wiley-Blackwell 312 Pages
Description
Through an international comparative research, this unique book examines ethnic residential segregation patterns in relation to the wider society and mechanisms of social division of space in Western European regions.
Focuses on eight Southern European cities, develops new metaphors and furthers the theorisation/conceptualisation of segregation in Europe
Re-centres the segregation debate on the causes of marginalisation and inequality, and the role of the state in these processes
A pioneering analysis of which and how systemic mechanisms, contextual conditions, processes and changes drive patterns of ethnic segregation and forms of socio-ethnic differentiation
Develops an innovative inter-disciplinary approach which explores ethnic patterns in relation to European welfare regimes, housing systems, immigration waves, and labour systems
List of Figures
Series Editors' Preface
Preface
1. Introduction
Paradoxes of segregation?
Recentering the debate on the production of urban inequality
The value of the (European) periphery
Structure of the book
Notes
2. Theorising segregation from Europe
Reconceptualising segregation: societal transformations and the transatlantic debate
The onset: convergence and the death of the state
The shift: divergence and the role of the state-market nexus
Segregation studies: an alternative paradigm and the emergence of a European school of thought
Academia and policy dissonance
Southern Europe a view from the periphery
Mind the gap
Framework for the book
Notes
3. Welfare Regimes and National Housing Systems in Europe
Welfare clusters and segregation
Linking welfare regimes and housing systems: principles of stratification and mechanisms of differentiation
Conception of society and decommodification
Mechanisms of socio-tenurial differentiation: housing tenures, unitary and dualist systems
Mechanisms of spatial differentiation: housing provision and land supply
How mechanisms of differentiation inform the social and spatial dimensions of segregation: land supply, tenure, and provision
Socio-tenurial dimension of segregation
Spatial dimension of segregation
Conclusion
Notes
4. International Migration Turnaround
Models, frameworks and theories in migration studies: towards a social transformation perspective
Explaining a changing world (order)
The social transformation perspective within migration studies
The (Southern) European migration turnaround
Global lenses and the post-Fordist model of immigration
Trans-Mediterranean lenses: from Europe's Rio Grande to the Mediterranean caravanserai
Contextual lenses: societal transformations and the Southern European model
Mapping flows and waves: a divergence perspective on Southern Europe
Divergences of flows from the mid-1960s to the late 1990s
Consolidation of flows in the 2000s
Waves of migration
Conclusion
Notes
5. Societal and Urban Contexts in Southern Europe
Patterns of segregation: a Southern European model?
Mechanisms of differentiation: urban segregation in the wider societal context
Mechanisms of ethnic residential marginalisation: from systemic arrangements to local urban political agendas
National context
Municipal context
Conclusion
Notes
6. A Mosaic of Ethnic Segregation Patterns: Southern European Cities in the 1990s
Mapping ethnic segregation
Degrees of concentration: a twofold typology of port cities and continental cities
Geographic distribution: patterns and divergences
Diffuse peripheralisation
Divergences within each continent of origin
Heterogeneous multi-ethnic areas and absence of ghettoes
Central versus outer-central areas: a source of divergence between port and continental cities
Socio-spatial distribution of the native population: a contextual legacy
Looking at the municipal scale: Barcelona, Genoa, Milan and Turin
Zooming out at the metropolitan scale: Rome, Madrid, Lisbon and Athens
Contrasting ethnic and social residential patterns
Socio-ethnic correspondences: the role of the city's socio-spatial hierarchy
Socio-ethnic mismatches: which processes of differentiation?
Conclusion
Notes
7. Mechanisms of Differentiation: The Role of Local Housing Systems up to the 1990s
Housing tenure perspectives to understand inequalities
A European approach
Adapting the framework for Southern European cities
Mechanisms of socio-tenurial and socio-spatial differentiation
Understanding Southern European urban contexts
State-market-family nexus: socio-tenurial distribution in municipal and metropolitan areas
Dual housing markets: the role of informal provision in socio-ethnic mismatches
Rental sector in municipal areas: the scale of residual rental stock
Low-income owner-occupation in metropolitan areas: informal production and the belt effect
Conclusion
Notes
8. Changing Urban Societies: New Mechanisms of Differentiation from the 1990s
Changing housing systems: path–dependency and systemic shifts
Monetary revolution and changing means of access to owner-occupation
Land recommodification and changes in housing supply
Rental sector: recommodification and shrinking
Final reflections
Growing homeowning cities: new mechanisms of differentiation, residential marginalisation and diffuse segregation
Implications of new housing production in the metropolitan areas
Implications of housing tenure change in the core municipal areas
Conclusion
Notes
9. The Urban Diaspora: the Paradox of (De)segregation
Widening ethnic residential marginalisation and socio-tenurial differentiation
Milan and its region
Barcelona and Madrid
Lisbon
Diffusing ethnic segregation: an indicator of exclusion
Lisbon's urban diaspora
Urban diaspora as a Southern European phenomenon?
Conclusion
10. Towards a systemic understanding of (ethnic) residential segregation
Redistribution, distinctiveness and housing system
A new geography of inequalities?
Housing as the deus ex machina
Looking ahead: emerging processes and challenges
"It's the [state], stupid"
References
Index