Penthouse Living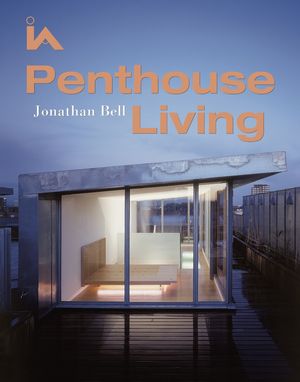 Penthouse Living
ISBN: 978-0-470-09449-5
Dec 2004
216 pages
Product not available for purchase
Description
The penthouse is perhaps the most iconic of all living spaces. The word implies wealth, with an emphasis on space, views, and an enviable urban lifestyle. But when did our domestic aspirations start to look skyward? Is the contemporary penthouse a purely elitist space, or are there mass-market solutions that might open up the roofscapes to everyone? Penthouses are aspirational, conjuring up a life with an undeniably sexual edge – Playboy magazine even developed its own penthouse concept for an early issue. They also imply a sense of mystery and power, these are the homes of industrialists, media moguls and film stars, elevated high above the rest of humanity.

Penthouse Living presents a selection of architecturally adventurous and dramatic penthouse projects from around the world, including modernist icons, cinematic visions and futuristic concepts, as well as a history of the penthouse, recent projects and tomorrow's icons. Penthouse Living will open the door to just a few of these exclusive spaces, an in-depth look at the developing architectural response to living on high.
Acknowledgements.
Introduction.
History.
Introduction.
The Clarendon Penthouse, Siris/Coombs Architects.
Claridge's Penthouse, Oswald Milne.
The Modernist Penthouse.
Introduction .
Highpoint Two, Berthold Lubetkin.
Keeling House Penthouse, Munkenbeck + Marshall Architects.
The Playboy Penthouse, Humen Tan.
The Deck House, John Young/Richard Rogers Partnership.
Glen Street Penthouse, Harry Seidler and Associates.
The Loft and the Contemporary Penthouse.
Introduction.
Penthouse Apartment, Johannes Saurer Architekt.
Treehouse, Block Architecture.
Mica House Penthouse, Stanton Williams Architects.
Manhattan Loft Corporation.
Penthouse in Manhattan, Tadao Ando Architect & Associates.
Kaufman Apartment, Simon Conder Associates.
Primrose Hill Penthouse, David Connor Design.
Kelly Penthouse, Lorcan OÃ?Herlihy Architects.
Bermondsey Penthouse, Blauel Architects.
Greenwich Street Project, Archi-Tectonics.
Grassi Penthouse, OBR Architetti Associati.
Stingel Apartment, Cha & Innerhofer.
West Village Penthouse, Christoff:Finio Architecture.
Two Rooftop Houses, Pierre d'Avoine Architects.
Camden Penthouse, A-EM Studio.
First Penthouse Limited.
The Future.
Introduction.
Residence Mumbai, SITE Environmental Architecture.
Bankside Paramorph, dECOi Digital Design Group.
Docklands Penthouse, Richard Hywel Evans Architecture and Design.
Haus Ray 1, Delugan Meissl Architects.
TO's Place, pool Architektur.
LoftCube, Studio Aisslinger.
m-house, Tim Pyne.
Superquadras Penthouses, Deckker Architects.
Web House, m3 Architects.
Listings.
Bibliography.
"Indulge your utopian fantasies with this picture-heavy book of penthouses"
Building Design,
24
th
March 2005
"…fascinating…Bell has struck an attractive balance between coffee table slick and engaging and interesting textual content." Grand Designs, June 2005