Performance-Based Reporting: New Management Tools for Unpredictable Times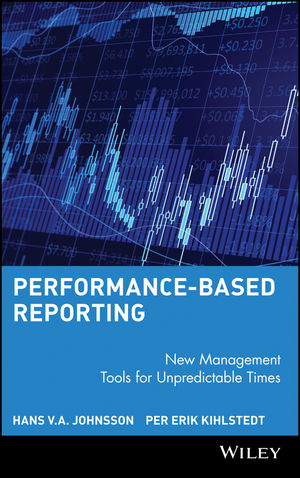 Performance-Based Reporting: New Management Tools for Unpredictable Times
ISBN: 978-0-471-73543-4 October 2005 240 Pages
Description
The successfully proven alternative system for relevant business reporting through performance management

Performance-Based Reporting shows businesses how traditional accounting fails to provide meaningful measures for performance and presents radically innovative and thoroughly tested methods for performance-oriented management, assessment, and reporting. Twenty-five years in the making, this helpful book also presents The Baseline Approach to management, assessment, and reporting-composed of eighty-percent accounting-free methods.

Performance-Based Reporting presents the culmination of intense experiments involving more than 1,500 businesses and over 4,000 executives. It definitively proves the need for new tools for realistic business planning and management in an unpredictable world. These tools already exist, and this helpful guide walks readers through the process of implementing them to help firms improve their ability to predict the direction they should take in the future.
Preface.
PART I: NEW REPORTING NEEDS FOR A NEW TIME.
Chapter 1: Accounting—Crisis or Crime?
The Accounting Tradition.
The Ethics of Accounting—Illegal, Immoral, or Indifferent?
A Case for Change.
The Value Mess.
Distorted Metrics.
Chapter 2: When Accounting Meets a New Reality.
The World in the Twenty-First Century.
Accounting and Accountability in the Fourth Economy.
How to Succeed in "The Age of Discontinuity".
How to Succeed in an Age of Mind-Based Wealth Creation.
How to Succeed in an Age of Interdependence.
Chapter 3: The Search for Adequate Reporting.
The Need for Alternatives.
Early Efforts: The "Scorecards" Approach.
The Challenge in Practice: Combining a Broad, All-Inclusive Perspective with a Manageable Number of Factors.
Back to the Crucial Question: What Makes Companies Fail or Prosper in the Twenty-first Century?
Chapter 4: Transparent Reporting Based on Today's Fundamentals.
Reporting to Support Performance, Disclosure, and Strategic Decision Making.
Why the Four Fundamentals?
Summing Up the Baseline Reporting Model.
PART II: IT CAN BE DONE!
Chapter 5: Business Planning in an Unpredictable World.
Business Planning and Enterprise Risk Assessment.
A Change of Perspective: Planning for an Unknowable Future.
"Money to Green": Investing in Freedom to Act.
Executive Weekend.
Chapter 6: "Where Was the Board?"
A Five-Step Boardwalk.
The Baseline Approach™ to Corporate Governance.
Chapter 7: Due Diligence or Undue Negligence?
The Fine Line Between Success and Failure in Mergers and Acquisitions.
Wanted: A New Kind of Due Diligence.
Why Mergers Fail.
How Does the Baseline Approach to Due Diligence Work?
Chapter 8: Fair and Meaningful Disclosure.
Reporting and Communicating for Accountability, Reputation, and Relevance.
Transparency, Disclosure, and Relevance.
A Matter of Restoring Confidence.
The Baseline Approach to Fair Disclosure and Meaningful Corporate Reporting.
Chapter 9: Auditing and Risk Management in a New Situation.
Risk Analysis and Management in Unpredictable Times.
How Serious is the Auditing Crisis?
The Baseline Approach to Auditing and Risk Management.
Chapter 10: "What Are We Lending Against?"
Financing, Lending, and Investment Decisions in the Fourth Economy.
Accountability in Lending and Financing.
The Baseline Approach to Lending and Financing Decisions.
Index.
 "…provides a useful framework for rediscovering the true value drivers of your business…" (Financial Systems News Website, March 2007)