Postmodern Ethics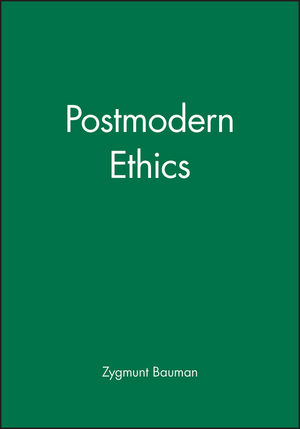 Postmodern Ethics
ISBN: 978-0-631-18693-9 October 1993 Wiley-Blackwell 262 Pages
Description
Zygmunt Bauman's powerful and persuasive study of the postmodern perspective on ethics is particularly welcome. For Bauman the great issues of ethics have lost none of their topicality: they simply need to be seen, and dealt with, in a wholly new way. Our era, he suggests, may actually represent a dawning, rather than a twilight, for ethics.
Table of contents
Introduction.
1. Moral Responsibilities, Ethical Rules.
2. The Elusive Universality.
3. The Elusive Foundations.
4. The Moral Party of Two.
5. Beyond the Moral Party.
6. Social Spaces: Cognitive, Aesthetic, Moral.
7. Private Morals, Pubic Risks.
8. An Overview: In the End is the Beginning.
Index.
Reviews
"Bauman must be given credit for placing what Kant called the mysteries of 'moral law inside me' as the ultimate riddle of morality. His criticism of all moral theories that reduce morality to the utilitarian rational choice of social actors is convincing." Jose Casanova, New School for Social Research