Principles and Practice of Pharmacology for Anaesthetists, 5th Edition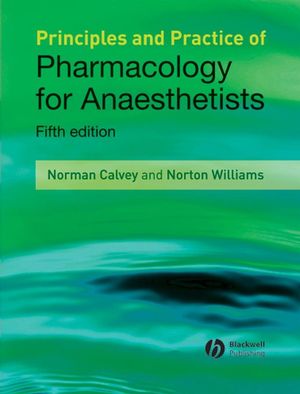 Principles and Practice of Pharmacology for Anaesthetists, 5th Edition
ISBN: 978-1-405-15727-8 February 2008 Wiley-Blackwell 374 Pages
Description
This fifth edition of
Principles and Practice of Pharmacology for Anaesthetists
continues to provide a comprehensive scientific basis and a readable account of the principles of pharmacology, as well as practical guidance in the use of drugs that is relevant to clinical anaesthesia.
With these concepts in mind:
Every chapter in this new edition has been thoroughly revised and updated
An additional chapter on Adverse Drug Reactions is included
For ease of reference, the structures of many commonly used agents are featured, with their sites of isomerism, when appropriate
Recommended International Non-proprietary Names (rINNs) are generally used for generic agents, although preference has been given to the current nomenclature for adrenaline and noradrenaline
As in previous editions, a comprehensive glossary covering abbreviations and acronyms is included to aid the reader.
Principles and Practice of Pharmacology for Anaesthetists is an invaluable resource, both for candidates of professional examinations in anaesthesia and the practising anaesthetist wishing to refresh their pharmacological knowledge.
Cannot be combined with any other offers.
Table of contents
Foreword to the First Edition.
Preface.
1 Drug Absorption, Distribution and Elimination.
2 Pharmacokinetics.
3 Drug Action.
4 Drug Interaction.
5 Variability in Drug Response.
6 Adverse Drug Reactions.
7 Intravenous Anaesthetic Agents.
8 Inhalational Anaesthetic Agents.
9 Local Anaesthetics.
10 Drugs that act on the Neuromuscular Junction.
11 Analgesic Drugs.
12 Drugs used in Premedication and Antiemetic Agents.
13 Drugs and the Autonomic Nervous System.
14 Antihypertensive Agents: Drugs that Are Used to Induce Hypotension.
15 Antiarrhythmic and Antianginal Drugs.
16 Antiplatelet Drugs, Anticoagulants and Fibrinolytic Agents.
17 Corticosteroids and Hypoglycaemic Agents.
Glossary.
Index
Reviews
"This fifth edition … continues to provide a comprehensive scientific basis and a readable account of the principles of pharmacology, as well as practical guidance in the use of drugs that is relevant to clinical anaesthesia. This book presents valuable insight into anesthetic pharmacology and reinforces essential concepts. It offers an excellent overview of the basic pharmacologic principles and their practical applications." (Doodys Reviews)
Features
● A comprehensive scientific basis and a readable account of the principles of pharmacology, as well as practical guidance in the use of drugs that is relevant to clinical anaesthesia
● Every chapter in this new edition has been thoroughly revised and updated
● Includes an additional chapter on adverse drug reactions
● Features the structures of many commonly used agents, with their sites of isomerism, when appropriate, for ease of reference
● Recommended International Non-proprietary Names (rINNs) are generally used for generic agents, although preference has been given to the current nomenclature for adrenaline and noradrenaline