Principles and Practice of Travel Medicine, 2nd Edition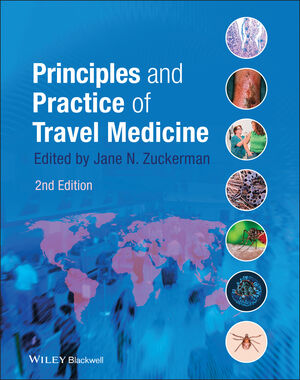 Principles and Practice of Travel Medicine, 2nd Edition
ISBN: 978-1-405-19763-2 February 2013 Wiley-Blackwell 676 Pages
Description
This second edition of Principles and Practice of Travel Medicine has been extensively updated to provide a comprehensive description of travel medicine and is an invaluable reference resource to support the clinical practice of travel medicine.
This new edition covers the many recent advances in the field, including the development of new and combined vaccines; malaria prophylaxis; emerging new infections; new hazards resulting from travel to long haul destinations; health tourism; and population movements. The chapter on vaccine-preventable diseases includes new developments in licensed vaccines, as well as continent-based recommendations for their administration.
There are chapters on the travel health management of high risk travellers, including the diabetic traveller, the immuno-compromised, those with cardiovascular, renal, neurological, gastrointestinal, malignant and other disorders, psychological and psychiatric illnesses, pregnant women, children and the elderly.
With increasing numbers of ever more adventurous travellers, there is discussion of travel medicine within extreme environments, whilst the chapter on space tourism may well be considered the future in travel medicine.
Principles and Practice of Travel Medicine is an invaluable resource for health care professionals providing advice and clinical care to the traveller.
Table of contents
Contributor list, vii
Preface, xii
Section I Travel medicine
1 Trends in travel, 3
Thomas L. Treadwell
2 Tourism, aviation and the impact on travel medicine, 9
Anne Graham
3 Epidemiology of health risks and travel, 19
Hans D. Nothdurft and Eric Caumes
4 Fitness to travel, 27
Dominique Tessier
5 Management of a travel clinic, 37
Abinash Virk and Elaine C. Jong
Section II Infectious diseases and travel
6 Epidemiology and surveillance of travel-related diseases, 47
Tomas Jelinek
7 Virus infections in travellers, 55
Arie J. Zuckerman
8 Bacterial infections in travellers, 99
Ann L.N. Chapman and Christopher J. Ellis
9 Vector-borne parasitic diseases, 112
Emma C. Wall and Peter L. Chiodini
10 Malaria and travellers, 126
Malaria, 126
David J. Bell and David G. Lalloo
Malaria chemoprophylaxis, 133
Patricia Schlagenhauf, Catherine Jeppesen, Laura K. Erdman, Melanie Newport, and Kevin C. Kain
The strategy of standby emergency self-treatment, 143
Patricia Schlagenhauf
11 Emerging and re-emerging infectious diseases, 146
Francisco G. Santos O'Connor
Section III Prevention and management of travel-related diseases
12 Skin tropical infections and dermatology in travellers, 167
Francisco Vega-López and Sara Ritchie
13 Travellers' diarrhoea, 197
Charles D. Ericsson
14 Vaccine-preventable disease, 209
Jay Halbert, Phyllis Kozarsky, Jane Chiodini, Nicholas Zwar, Gary Brunette and Jane N. Zuckerman
15 Returned travellers, 260
Nicholas J. Beeching, Tom E. Fletcher and Limin Wijaya
Section IV Hazards of air and sea travel
16 Aviation medicine, 289
Michael Bagshaw
17 Aviation psychology, 315
Robert Bor, Carina Eriksen, Margaret Oakes and Philip Baum
18 Expedition and extreme environmental medicine, 328
Sean Hudson, Andrew Luks, Piers Carter, Luanne Freer, Caroline Knox, Chris Imray and Lesley Thomson
19 Travel health at sea: cruise ship medicine, 380
Robert E. Wheeler
Section V Environmental hazards of travel
20 Travel-related injury, 397
Robert Grenfell
21 International assistance and repatriation, 403
Alex T. Dewhurst and John C. Goldstone
22 Venomous bites and stings, 415
R. David G. Theakston and David G. Lalloo
23 Ophthalmic conditions in travellers, 434
Clare Davey and James Tee
Section VI Practical issues for travellers
24 Travelling with children (including international adoption issues), 447
Philip R. Fischer and Andrea P. Summer
25 Women's health and travel, 463
I. Dale Carroll and Susan Anderson
26 The immunocompromised traveller, 503
Robert J. Ligthelm and Pieter-Paul A.M. van Thiel
27 High-risk travellers, 515
Kathryn N. Suh, Anne E. McCarthy, Maria D. Mileno and Jay S. Keystone
28 Aid workers, expatriates and travel, 531
Kenneth L. Gamble, Deborah M. Hawker, Ted Lankester and Jay S. Keystone
29 The health of migrants and refugees, 556
Louis Loutan, Sophie Durieux-Paillard and Ariel Eytan
30 Visiting friends and relatives, 566
Delane Shingadia
31 Travel medicine, ethics and health tourism, 571
Deborah Bowman and Richard Dawood
32 Medico-legal issues in travel medicine, 579
Jennifer G. Baine and Paul S. Auerbach
33 Travellers' safety and security, 588
Peter A. Leggat and Jeff Wilks
34 The international athlete: travelling healthy to global sporting events, 601
Travis W. Heggie, Sarah Borwein and Marc T.M. Shaw
35 Space tourism – the future in travel health?, 612
Kevin J. Fong and Mark H. Wilson
Index, 623
Reviews
Having reviewed the first edition in 2001, I welcome the opportunity to review this new one. The format is similar with the content delivered in six sections, but with more chapters in each and information expanded to include new developments and advances in the field. Expert contributors now number an impressive 80, lending a truly international perspective to the content. Travel to international sporting events and a favourite of mine – space tourism – are welcome and timely additions.
Although travel abroad for healthcare is not new, the global economic downturn has created a boom in so-called health tourism. The discussion on the reasons, benefits and pitfalls is well covered including the ethical perspective and dilemmas practitioners may face– with case studies to give food for thought.
In the preface, the editor asks: "Where have we been, where are we now and where are we going?" - a good indication of what we can expect to find in the book. The majority of people who travel are 'well' and the art of practising travel medicine lies mainly in keeping them that way.
However, it is becoming more complex for travel health advisers as increasingly those with pre-existing medical conditions are travelling to destinations which may pose a risk to their condition or where the lack of healthcare resources put them at risk if a medical problem arises and they need care. The management of these high risk travellers is covered in Chapter 27 and includes both general and disease specific advice.
Good emphasis is given to the fact that there is no age limit for travelling and no one size fits all scenarios. Individuals deserve the best advice for their trip and the list of additional resources for specific reference is most useful. Once again case histories throughout the text helpto illuminate the subjects.
Chapter Six looks at the epidemiology and surveillance of travel-related disease and emphasises the benefits of international collaboration in detecting infectious diseases and sharing the information to alert and protect other travellers.
Malaria prevention and treatment information is welcome. Chapter 11 ('The Interconnecting World') looks at transport, migrants, and emerging and re-emerging infectious diseases, and also considers the role of mobile populations and mass gatherings in this. Numerous excellent tables relating to the importance of travel health support the information.
I loved the quote at the beginning, credited to Harvey Cushing: "A physician is obligated toconsider more than a diseased organ, more even than the whole man – he must view the man in his world." Never was a truer word spoken.
I recommend this textbook as a valuable resource for study and reference, and it will be a welcome addition to any library supporting education in travel medicine. (Sandra Grieve FFTM RCPS(Glasg), Emporiatrics Autumn/Winter 2013)