Principles of Pavement Design, 2nd Edition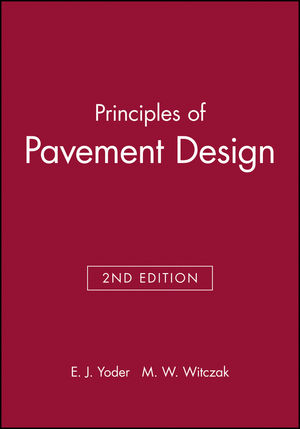 Principles of Pavement Design, 2nd Edition
ISBN: 978-0-471-97780-3 January 1975 736 Pages
Description
Presents a complete coverage of all aspects of the theory and practice of pavement design including the latest concepts.
Table of contents
FUNDAMENTAL PRINCIPLES.

Pavement Types, Wheel Loads, and Design Factors.

Stresses in Flexible Pavements.

Stresses in Rigid Pavements.

Vehicle and Traffic Considerations.

Climate, Environment.

The Economic Factor, Design Strategies, Systems Analysis.

PROPERTIES OF PAVEMENT COMPONENTS: MATERIALSCHARACTERIZATION.

Soil Classification.

Materials Characterization.

Soil and Base Stabilization.

Subgrades.

Bases and Subbases.

Bituminous Surfaces.

Material Variability.

DESIGN OF FLEXIBLE PAVEMENTS.

Design of Flexible Airport Pavements.

Design of Flexible Highway Pavements.

DESIGN OF RIGID PAVEMENTS.

Design of Rigid Airport Pavements.

Design of Rigid Highway Pavements.

PAVEMENT EVALUATION AND REHABILITATION.

Pavement Distress.

Condition Surveys.

Strengthening Existing Pavements.