ProBlogger: Secrets for Blogging Your Way to a Six-Figure Income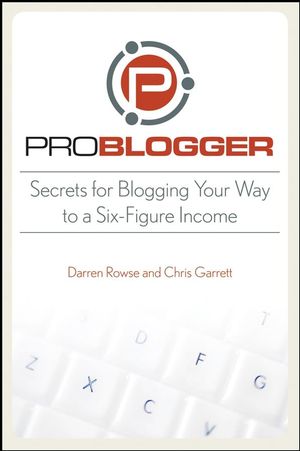 ProBlogger: Secrets for Blogging Your Way to a Six-Figure Income
ISBN: 978-0-470-24667-2
May 2008
240 pages
Product not available for purchase
Description
Problogger.net is where bloggers worldwide go for advice and information on enhancing their blog's presence. Whether you're just starting out or have been blogging for years, these two professional bloggers show you how to turn your passion for blogging into extra revenue. This practical guide to creating and marketing a blog with the potential for generating a six-figure income shows you how to choose subject matter that works for you, handle technical issues, and evaluate your blog's success so that you can use your blog to generate income indirectly.
Introduction.
1 Blogging for Money.
2 Niche Blogging.
3 Setting Up Your Blog.
4 Blog Writing.
5 Blog Income and Earning Strategies.
6 Buying and Selling Blogs.
7 Blog Networks.
8 Blog Promotion and Marketing.
9 Secrets of Successful Blogs.
10 Creating Something Worthwhile.
Index.
"Both authors are successful and profitable probloggers and here they reveal at last some of their secrets." (The Bookseller, Friday 14th March 2008)
Chapter
Page
Details
Date
Print Run
xii
Error in Link
under "Hobby Blogger", 4th paragraph:

http://www.livingtoom.org.au/blog

should be:

http://www.livingroom.org.au/blog
04/29/2008

---

4
78
Error in Text
"How is it different from other bogs?"

'bogs'

SHOULD BE:

'blogs'
05/28/2008

---

87
Error in Text
Near the top right hand margin:

aslo

SHOULD BE:

also
06/02/2008

---

156
Error in Text
line 8 of Ownership/Rights:

"...but will but ask..."

SHOULD BE:

"... but will ask..."
06/02/2008

---

199
Error in URL
The URL on pg. 199 under the blog screenshot is incorrect (includes "the").

The proper URL is www.fourhourworkweek.com/blog

Also "Four-Hour Work Week" should be "4-Hour Workweek"
05/29/2008

---