Professional Cairngorm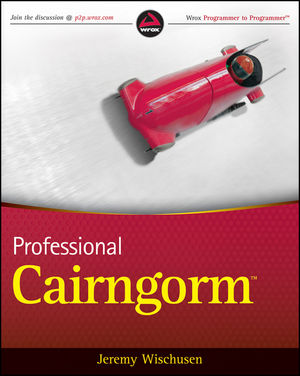 Description
Take advantage of Cairngorm, one of the leading Flex frameworks for building Rich Internet Applications (RIA)
Cairngorm is a framework that encourages best practices for RIA development. It is the most popular and widely deployed Flex framework, yet very few books provide the depth and detail necessary to thoroughly understand and utilize it. This helpful resource fills that void by going beyond the basics of Cairngorm and showing you the details behind its design.
Using a full-scale project throughout the book, the author shows you Cairngorm in a real-world situation. You'll examine the various parts of the framework and what those parts are designed to accomplish, plus you'll learn how to implement each of the individual parts to create a complete project.
Offers hard-to-find coverage of Cairngorm, the popular framework used for RIA development
Features a real-world case throughout the book to walk you through the process of using Cairngorm in a large-scale project
Explains the details behind Cairngorm and how you can best take advantage of this framework
With this resource, you'll get step-by-step guidance on how to best take advantage of all that Cairngorm has to offer.
Introduction.
Chapter 1: Introducing Cairngorm.
Chapter 2: Frameworks and Design Patterns.
Chapter 3: The ServiceLocator.
Chapter 4: The ModelLocator.
Chapter 5: The FrontController.
Chapter 6: Events.
Chapter 7: Commands.
Chapter 8: Delegates.
Chapter 9: Value Objects.
Chapter 10: How the Pieces Work Together.
Chapter 11: Project Overview.
Chapter 12: Flex Project Setup.
Chapter 13: The Backend.
Chapter 14: Main Application Setup.
Chapter 15: User Registration.
Chapter 16: User Login.
Chapter 17: Adding Posts.
Chapter 18: Loading Posts.
Chapter 19: Adding a Commenting System.
Chapter 20: Adding Search Capabilities.
Chapter 21: Reviewing Version One.
Chapter 22: Combining Classes.
Chapter 23: Calling Methods on Views.
Chapter 24: Sequencing Commands.
Chapter 25: Criticisms of Cairngorm.
Chapter 26: Best Practices.
Chapter 27: Cairngorm Plug-in.
Chapter 28: Cairngorm Extensions.
Chapter 29: Looking Back and Ahead.
Index.