Protocols for Predictable Aesthetic Dental Restorations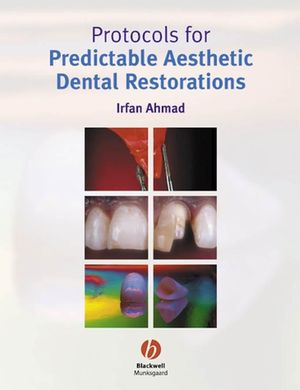 Protocols for Predictable Aesthetic Dental Restorations
ISBN: 978-1-405-11820-0 March 2006 Wiley-Blackwell 232 Pages
Description
Aesthetic dentistry has become increasingly important to dentists and their patients. This book is designed as a springboard to assist clinicians in developing the aesthetic potential of restorative procedures. The book marries evidence-based principles with handy hints and tips the author has distilled from years of clinical experience. This combination of scientific principles with 'real world' practice will boost the confidence of budding aesthetic practitioners and clinical dental students.


The book focuses on the principles of aesthetic work across the dentist's repertoire, rather than concentrating on one particular technique. For this reason, it will add value to the range of daily restorative work in the dental surgery.
1. Treatment Planning – assessment and treatment.
2. The Health, Function and Aesthetic Triad.
3. Choice of All-ceramic Systems.
4. Colour and Shade Analysis.
5. Foundations and Intra-radicular Support.
6. Tooth Preparation.
7. Therapeutic Temporary Restorations.
8. Biological Impressions.
9. Try-in Procedures.
10. Cementation and Dentine Bonding Agents


Contains stunning colour photography, documenting step-by-step procedures

Digests scientific principles alongside clinical technique

Features handy tips based on years of completed case work

Comments on potential lifespans of restorations

Useful tables offer guidance on the characteristics and choice of materials

Considers laboratory interactions alongside the clinical environment