Rapid Paediatrics and Child Health, 2nd Edition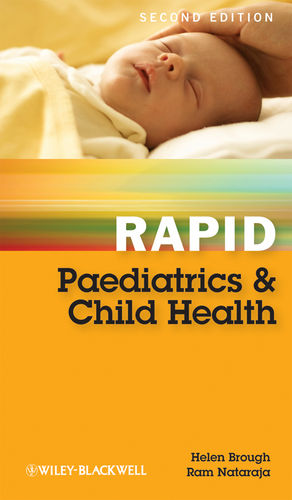 Rapid Paediatrics and Child Health, 2nd Edition
ISBN: 978-1-405-19330-6 September 2010 Wiley-Blackwell 280 Pages
Description
This pocket reference and revision guide is a must for all medical students and junior doctors preparing for major exams in paediatrics and child health or needing a rapid reminder during a clinical attachment. Now thoroughly updated and with the addition of key references, this new edition provides quick access to information on common paediatric problems and disorders, their signs, symptoms, and aetiological agents.
It includes sections on surgical problems, procedures, and general paediatric management such as resuscitation techniques, and features tips on how to take a paediatric history. It presents the contents ordered by system and conditions in alphabetical order, reflects current NICE and paediatric surgery guidelines, and features over 15 new presentations including eczema, food allergies and conduct disorder.
Table of contents
Preface.
List of abbreviations.
Acne vulgaris.
Allergic rhinitis (AR).
Anaemia, aplastic.
Anaemia, haemolytic.
Anaemia, iron deficiency.
Anaemia of prematurity.
Anorectal malformations (ARM).
Appendicitis, acute.
Asthma.
Atopic eczema.
Atrial & Atrioventricular septal defects (ASD & AVSD).
Attention deficit hyperactivity disorder (ADHD).
Autistic spectrum disorder.
Breath-holding attacks.
Bronchiolitis, acute.
Cerebral haemorrhage.
Cerebral palsy.
Chronic lung disease (CLD) of prematurity.
Cleft lip (CL) and palate (CLP).
Coarctation of the aorta (COA).
Coeliac disease.
Conduct disorder.
Congenital adrenal hyperplasia.
Congenital hypothyroidism.
Congenital infections.
Constipation.
Cow's milk protein allergy.
Croup (acute laryngotracheobronchitis).
Cryptorchidism.
Cystic fibrosis (CF).
Delayed puberty.
Depression.
Developmental dysplasia of the hip (DDH).
Diabetes mellitus (type I) (DM).
Down syndrome (trisomy 21).
Duchenne/Becker muscular dystrophy.
Encephalitis.
Epiglottitis, acute.
Epilepsy in childhood.
Exomphalos and gastroschisis.
Faecal soiling (encopresis).
Failure to thrive.
Febrile seizures.
Food allergy.
Fractures.
Functional abdominal pain (FAP).
Fungal skin infections.
Gastroenteritis.
Gastro-oesophageal reflux disease (GORD).
Genetic skeletal dysplasias.
Global developmental delay.
Glomerulonephritis, acute.
Group B streptococcal (GBS) infection.
Head lice (pediculosis).
Hearing impairment.
Heart failure.
Hernia, congenital diaphragmatic (CDH).
Hernias, inguinal.
Hirschsprung disease.
Human immunodeficiency virus (HIV).
Hydrocephalus.
Hyperthyroidism.
Hypoglycaemia in neonates.
Hypospadias.
Hypoxic-ischaemic encephalopathy (HIE).
Impetigo.
Inadvertent poisoning.
Inborn errors of amino acid metabolism.
Inborn errors of carbohydrate metabolism.
Inflammatory bowel disease.
Intraventricular haemorrhage (IVH).
Intussusception.
Juvenile idiopathic arthritis (JIA).
Kawasaki disease.
Klinefelter syndrome.
Lactose intolerance.
Legg-Calv e-Perthes disease.
Leukaemia, acute lymphoblastic (ALL).
Leukaemia, acute myeloid (AML).
Limping child.
Liver disease, chronic.
Liver failure, acute.
Lymphoma, Hodgkin.
Lymphoma, non-Hodgkin (NHL).
Malrotation of the intestine.
Marfan syndrome.
Measles, mumps, rubella (MMR).
Meckel's diverticulum (MD).
Meconium aspiration syndrome.
Meningitis.
Mesenteric adenitis.
Myotonic dystrophy.
Near-drowning.
Necrotising enterocolitis (NEC).
Neonatal jaundice.
Nephrotic syndrome.
Neurocutaneous syndromes.
Nocturnal enuresis.
Obesity in children.
Oesophageal atresia and tracheo-oesophageal fistula.
Osgood-Schlatter syndrome.
Otitis media, acute and chronic.
Patent ductus arteriosus (PDA).
Persistent pulmonary hypertension (PPH).
Phimosis and foreskin disorders.
Pneumonia.
Pneumothorax.
Precocious puberty (complete).
Precocious puberty (partial).
Primary immune deficiency.
Pulmonary valve stenosis.
Pyloric stenosis.
Renal failure, acute (ARF).
Renal failure, chronic (CRF).
Respiratory distress syndrome (RDS).
Retinopathy of prematurity (ROP).
Rheumatic fever.
Safeguarding children.
Scabies.
School refusal.
Septicaemia.
Short stature.
Sickle cell anaemia.
Sleep-related disorders.
Small bowel atresia.
Sticky eye/conjunctivitis.
Sudden infant death syndrome (SIDS).
Supraventricular tachycardia (SVT).
Testicular torsion.
Tetralogy of Fallot.
Thalassaemia.
Tics.
Transient tachypnoea of the newborn (TTN).
Transposition of the great arteries.
Turner syndrome.
Upper respiratory tract infection (URTI).
Urinary tract anomalies.
Urinary tract infection.
Varicella (chickenpox).
Venous access.
Ventricular septal defect (VSD).
Visual impairment.
Vitamin D deficiency.
Whooping cough (pertussis).
Appendices.
Appendix 1 Taking a History in Paediatrics.
Appendix 2 Neonatal Resuscitation.
Appendix 3 Formal Assessment of the Neonate at Birth.
Appendix 4 Examination of the Newborn.
Appendix 5 Breastfeeding Versus Bottlefeeding.
Appendix 6 Infant Feeding.
Appendix 7 Paediatric Resuscitation.
Appendix 8 Developmental Stages in Children.
Appendix 9 Immunisation Schedule.
Appendix 10 Child Health Promotion Programme.
Appendix 11 Status Epilepticus.
Further Reading.