Reading Ancient Egyptian Poetry: Among Other Histories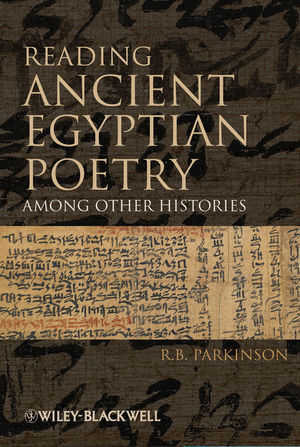 Reading Ancient Egyptian Poetry: Among Other Histories
ISBN: 978-1-405-12547-5 January 2009 Wiley-Blackwell 416 Pages
Description
In
Reading Ancient Egyptian Poetry
, Richard Parkinson explores how ancient Egyptian poems have been read and perceived across the ages.


Presents an innovative and theoretically-informed account of how the most famous ancient Egyptian
poems have been read over 4,000 years

From a leading expert in the interpretation of ancient Egyptian literature

Explores the original experience of ordinary Egyptians enjoying the poems as well as their interpretation
during the Middle Kingdom and up to modern times

Draws on recent discoveries in the British Museum archives to reconstruct the contexts of the poems
Table of contents
List of Illustrations.
Preface.
Note on Cited Texts.
Chronology.
Part I Performing Poetry.
1. Visitors in Egypt.
2. Reciting Two Poems at Abu (c. 1840 BC).
3. A Performance.
Part II Reading Old Poems.
4. Writing at the Southern City (c. 1780 BC).
5. A Certain Provincial Scribe (c. 1780 BC).
6. A Library at the Southern City (c. 1680 BC).
7. Imperial Classics in the New Kingdom and Beyond (c. 1550–500 BC).
Part III Studying Ancient Texts.
8. Some Modern Readers (AD 1836 on).
9. Among Other Histories.
Appendix: Translations of the 12th-Dynasty Papyri.
Abbreviations.
References.
Index
Reviews
""Parkinson's thickly textured readings are an interesting example of how to make this material more
accessible to nontechnical readers without sacrificing accuracy or detail."" (Common Knowledge, 2012)
""A thoughtful and insightful volume on the Egyptian poems, specifically, and on ancient literature in general. ... All will agree that this 'love letter' is a valuable addition to the field."" (Bryn Mawr Classical Review, January 2010)
""The author, one of the foremost scholars of ancient Egyptian literature, provides translations of many poems and stories but also helps to bring them to life by showing how they were part of the lives of everyday ancient Egyptians."" (Ancient Egypt, September 2009)
Features


Presents an innovative and theoretically-informed account of how the most famous ancient Egyptian
poems have been read over 4,000 years

From a leading expert in the interpretation of ancient Egyptian literature

Explores the original experience of ordinary Egyptians enjoying the poems as well as their interpretation
during the Middle Kingdom and up to modern times

Draws on recent discoveries in the British Museum archives to reconstruct the contexts of the poems