Rehabilitation of Sports Injuries: Scientific Basis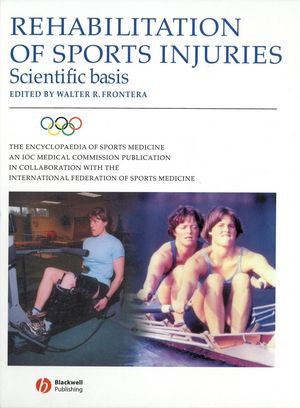 Rehabilitation of Sports Injuries: Scientific Basis
ISBN: 978-0-632-05813-6 November 2002 Wiley-Blackwell 340 Pages
Description
Rehabilitation is, by definition, the restoration of optimal form and function for an athlete. In this edition in the
Encyclopedia
series, the editor and contributors advocate that rehabilitation should begin as soon as possible after the injurty occurs, alongside therapeutic measures such as anti-inflammatories and other pain killing agents. This might also begin before, or immediately after, surgery.
The rehabilitative process is therefore managed by a multi-disciplinary team, including physicians, physiotherapists, psychologists, nutritionists, and athletic trainers, amongst others.

This book considers the three phases of rehabilitation: pain relief, protection of the affected area and limitation of tissue damage; limitation of impairment and recovery of flexibility, strength, endurance, balance and co-ordination; and finally the start of conditioning to return to training and competition.
Table of contents
1 Epidemiology of sports injuries: implications for rehabilitation;.
2 Pathophysiology of injury;.
3 Tissue healing and repair: muscle;.
4 Tissue healing and repair: tendons and ligaments;.
5 Tissue healing and repair: bone and cartilage;.
6 Immobilization;.
7 Physiological and functional implications of injury;.
8 Use of physical modalities and pain management;.
9 Flexibility and joint range of motion;.
10 Strength and endurance;.
11 Proprioception and co-ordination;.
12 Function Rehabilitation and return to training and competition;.
13 Orthoses in the prevention and rehabilitation of injuries;.
14 The psychology of the injured athlete;
Reviews
"All the chapters are thorough, detailed and the references are comprehensive.
...this text is great value for money, well written, clearly organised and I would thoroughly recommend it. Those professionals involved in the rehabilitation of all types of injury will find something of value in this book."

Physiotherapy Journal, September 2004
Features
* an IOC Medical Commission publication
* provides a detailed overview of the management of rehabilitation of the injured athlete
*presents the most up-to-date research in the area
*invaluable for the multi-disciplinary team who manage the rehabilitative process