Religion and Democracy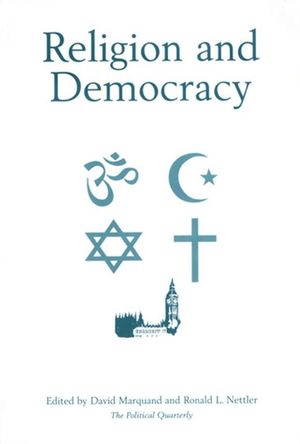 Religion and Democracy
ISBN: 978-0-631-22184-5 September 2000 Wiley-Blackwell 144 Pages
Description
100 years ago, secular liberals thought religion would gradually recede from the public sphere and become an exclusively private concern. Today, organised religion is still a powerful political force in most parts of the world. In many its political significance has grown. But is it an ally or an enemy of pluralist democracy? That crucial question provides the theme for this path-breaking collection.
1. Foreward: David Marquand and Ronald L. Nettler (Mansfield College, Oxford).
2. Secularism?: John Keane.
3. Living with Difference in India: Susanne Hoeber Rudolph and Lloyd Rudolph.
4. Religion and Democracy in Israel: Emanuele Ottolenghi.
5. Islam, Politics and Democracy: Mohamed Talbi and Islamic Modernism: Ronald L. Nettler.
6. Trajectories of Political Islam: Egypt, Iran and Turkey: Sami Zabaida.
7. American Fundamentalism and the Selling of God: Harold Perkin.
8. The Quiet Continent: Religion and Politics in Europe: Colin Crouch.
9. J.N.Figgis, Churches and the State: Paul Hirst.
10. Making the Christian World Safe for Liberalism: from Grotius to Rawls: Timothy Samuel Shah.