Retrofitting Suburbia: Urban Design Solutions for Redesigning Suburbs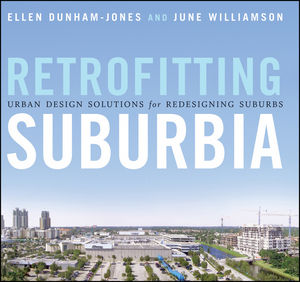 Retrofitting Suburbia: Urban Design Solutions for Redesigning Suburbs
ISBN: 978-0-470-04123-9 January 2009 272 Pages
Description
Updated with a new Introduction by the authors and a foreword by Richard Florida, this book is a comprehensive guide book for urban designers, planners, architects, developers, environmentalists, and community leaders that illustrates how existing suburban developments can be redesigned into more urban and more sustainable places. While there has been considerable attention by practitioners and academics to development in urban cores and new neighborhoods on the periphery of cities, there has been little attention to the redesign and redevelopment of existing suburbs. The authors, both architects and noted experts on the subject, show how development in existing suburbs can absorb new growth and evolve in relation to changed demographic, technological, and economic conditions.

Retrofitting Suburbia was named winner in the Architecture & Urban Planning category of the 2009 American Publishers Awards for Professional and Scholarly Excellence (The PROSE Awards) awarded by The Professional and Scholarly Publishing (PSP) Division of the Association of American Publishers
Preface vi
Introduction viii
Urban Versus Suburban Form viii
Why Retrofits? Why Now? xii
Organization of the Book xiii
Acknowledgments xv
Chapter 1 Instant Architecture, Instant Cities, and Incremental Metropolitanism 2
Instant Cities and Suburban Retrofits 2
Instant Architecture, Instant Public Space 6
Incremental Metropolitanism 9
How Sustainable? How Urban? 12
Chapter 2 Retrofitting Garden Apartments and Residential Subdivisions to Address Density and the New Demographics 16
Never Homogenous? The New Suburban History 17
Demographic Changes 18
Retrofitting Policy 20
Retrofitting Residential Subdivisions 22
Revising the Rules: Kansas City First Suburbs Coalition and DADUs in Seattle 23
Connect the Culs-de-sac: Apollo Beach and Laurel Bay 25
From Subdivision to Edge City: Greenway Plaza 27
From Subdivision to TOD: MetroWest 27
Reintegrating Garden Apartment Buffer Sites 29
Accommodating New Immigrants: Brookside Apartments and Gulfton 30
Market Devaluation: Park Forest Courts 32
Gentrification Infill: Gramercy and The Colony 34
Tomorrow's Suburbanites 35
Chapter 3 Residential Case Study: Changes to "Levittown" 44
The Earliest Postwar Suburbs Are Sixty Years Old Demographic Diversity in Levittown, Willingboro, and Park
Forest 46
Failure and Redevelopment of Retail Properties 51
Resistance to Change in Residential Patterns 52
Diversifying Housing Choices 54
Paths Toward Further Change 56
Chapter 4 Retrofitting Social Life Along Commercial Strips 59
Third Places in Suburbia? 59
History of the Strip and Its Building Types 62
The Drive out of Town 62
Adaptive Reuse of Big Boxes and Strip Malls for Community-Serving Activities 67
Reviving Ghostboxes 67
From Strip Malls to Community Anchors: La Grande Orange and Camino Nuevo 70
Retrofitting Shopping Centers: The Middle Scale 72
Regreening: Phalen 72
Public Sector Strategies to Support Retrofitting 75
Santana Row's Rough Road to Riches 78
From Strip Centers to New Downtown: Temple Terrace 80
Retrofitting the Corridors Themselves: Designing for Mobility or Access or Both 81
The Transit Boulevard and the Urban Network 82
Return of the Multiway Boulevard: Cathedral City 84
Rezoning Corridors: Three Examples in Atlanta 87
Inducing Transit on a Corridor Through Form-Based Codes: Columbia Pike 90
Retrofitting the Urban Structure of Commercial Strips 92
Social Infrastructure 9
Chapter 5 Strips Case Study: Mashpee Commons, Cape Cod, Massachusetts 95
Attaching to a Well-Established Fragment of Urbanism Site History 98
Morphological Analysis 102
From Strip to Downtown: Mashpee's Third Place 105
Chapter 6 From Regional Malls to New Downtowns Through Mixed-Use and Public Space 108
The Significance of Public Space 110
A Brief History of Malls 112
Dead and Dying Malls 114
Changing Uses to Meet Local Needs 119
Downsizing: Park Forest and Willingboro 119
From Enclosed Malls to New Downtowns 123
From Dead Mall to New Downtown: Mizner Park 123
Turning a Mall Inside Out: Winter Park Village 126
Incremental Metropolitanism Around Denver: CityCenter Englewood 129
Infilling Around a Live Mall 134
You Can Save the Tree and Have Tiffany's, Too: Walnut Creek 134
From Mall to Transit-Served University and Office Tower: Surrey Central City 136
The Role and Form of Mixed-Use and Public Space in Retrofitted Malls 138
Chapter 7 Mall Case Study: Cottonwood, Holladay, Utah 140
From Concept to Press Release
Repositioning Mall Properties 142
Market Study and Mini-Charrette 143
Charrette 146
Benefits of the Charrette 151
Chapter 8 Mall Case Study: Belmar, Lakewood, Colorado 154
"Enrich Your Life, Not Your Lawn" in Lakewood's New Downtown "Greening": Finding the Funding for Sustainable Urbanism 159
Morphological Analysis 162
From Bunkers to Streetscapes: Public Space 166
New Uses/New Users 170
Chapter 9 Edge City Infill: Improving Walkability and Interconnectivity 172
Redirecting Edge Cities 173
The Evolution of Edge and Edgeless Cities 177
Edgeless Cities 179
Infilling Edge Cities 180
Addison Circle 180
Legacy Town Center 182
Perimeter Place 183
How Effective Are the Infill Strategies? 186
Edge-City Retrofits Across Multiple Parcels 187
The Future of Edge Cities 191
Chapter 10 Edge City Case Study: Downtown Kendall/Dadeland, Miami-Dade County, Florida 192
Zoning the Creation of New Blocks and Squares over Multiple Parcels Regulating an Urbanizing Framework 196
Morphological Analysis 198
Demographic Analysis: Reaping the Benefits of Interconnectivity 201
Chapter 11 Suburban Office and Industrial Park Retrofits to Recruit the Creative Class 203
Suburban Industrial Parks, Office Parks, and Corporate Campuses 204
Nonconcentric Patterns of Commuting 206
Polycentric Atlanta: Bellsouth in Lenox Park, Midtown, and Lindbergh City Center 207
Recruiting the Creative Class 209
Creative Campus: SkySong 211
Retrofitting Suburban Workplaces 211
Glass Box Lofts: Cloud 9 Sky Flats 212
Lofts on the Interstate: Upper Rock 214
Retrofitting Industrial Parks 216
Instant Urbanism: Westwood Station 217
Chapter 12 Office Park Case Study: University Town Center, Prince George's County, Maryland 219
Finishing a Job Started Almost Half a Century Ago Transit Provides Opportunity for Infilling with Mixed Use 222
Morphological Analysis 225
Demographic Analysis: Appeal to the Creative Class? 228
Epilogue: The Landscape of Incremental Metropolitanism in 2050 230
Notes 234
Image Credits 248
Index 249
"
Retrofitting Suburbia
advocates drastically overhauling much of America's older suburban development, and shows in considerable detail how to make it happen. At the heart of the opus is an analysis of 36 real-world projects that demonstrate not only that suburban redevelopment is economically viable, but also that the movement is well under way." (
Period Homes
, 2010)
"Ellen Dunham-Jones focused much of her talk on redeveloping the failing shopping centers and big box stores of suburbia. Her book, "Retrofitting Suburbia", looks at more than 80 examples done around the country." (The Florida Times-Union, May 2010)
"…offers an interesting look at the possible future of suburbs, and what to do with all those abandoned malls and warehouse -style stores with sprawling parking lots. Ellen Dunham-Jones and June Williamson present the argument for "retrofitting" existing low-density communities and commercial strips into sustainable, mixed-use spaces that reduce urban sprawl and the dependence on cars." (Cincinnati.com, November 21, 2009)
"Aging suburban cities, especially first tier cities, are finding it more and more difficult to afford the massive infrastructure and services necessary to accommodate those thinly spread homes and businesses. Ellen Dunham-Jones and June Williamson call this the "suburban form" in their recent book, Retrofitting Suburbia. They partially define the suburban form as isolated buildings, single uses, auto-dependence, low density, and streets and roads that branch out and often end in cul-de-sacs." (National League of Cities, November 2, 2009)
"Why, where, and how should suburbia be retrofitted? This content-rich, well-written book provides compelling answers. The book's analysis and commentaries are rigorous and comprehensive, predicated not on academic theory but on planning and development history, social science, demographics, market conditions, and regulatory considerations." (Architectural Record, November 2009)
"…highlights a handful of innovative suburban revamps that have already gained traction. Some examples highlight the benefits of simply re-inhabiting existing buildings. Others chronicle "re-greening efforts" to restore local ecology and wetlands while bolstering adjacent property values. But many of the book's examples focus on the redevelopment of what the author describes as a "fragmented habitat whose public realm is designed for cars" not people." (Builder Magazine, October 15, 2009)
"A well-regarded new book-Retrofitting Suburbia - describes the results as "incremental metropolitanism". It consists of connecting and filling in to increase the density of both people and uses on the same acreage, making better use of infrastructure and energy and creating environments congenial to walking and socializing, all of which aggregrates demand sufficiently to support convenience retail and restaurants." (Illinois Times, October 22, 2009)
"Overall this book is an interesting read and just about the first to deal in any depth with what no doubt will emerge as a major concern of academic debate and planning and design practice." (Environmental and Planning, 2009 Vol 36)
"We aren't proposing to demolish entire single-family neighborhoods" says Prof. Dunham Jones at Georgia Tecyh. Rather, "the idea is to revitalize an area by inserting more choices for people, especially more urban choices." (Wall Street Journal, September 19-20, 2009)
"Well-illustrated case studies make up the bulk of the book. These range from in-filling garden apartments and reimagining dead malls to revising Levittown and remaking Main Street. Along the way the authors offer useful how-to details: organizing charettes, dealing with building codes, analyzing sites morphologically. Like their predecessor, the authors are remarkbly optimistic about the possibility of solving the problems with which US communities are burdened." (Choice, August 2009)
"…a book documenting the successful redevelopment of shopping centers and other types of properties." (Harvard Business Review, July - August 2009)
"In Retrofitting Suburbia…Dunham-Jones and Williamson target the outdated, unsustainable developments of existing suburbs. With the reduction of vehicle miles traveled as their goal, the authors see transit options and increased density as the key means for success....the book leaves no suburban condition untouched." (A Daily Dose of Architecture, July 2009)
"Retrofitting" suburbia has to do with environmental sustainability as well as economic: greater densities, diversity of uses and reduced car dependence. The authors' examples range from fitting solar collectors to individual houses to finding new uses for abandoned big box streets and introducing public streets into the vast tracts of privately controlled land associated with shopping centres." (Ottawa Citizen, 7/27/09)
"...suburban infill developments and redevelopments are springing up all around the country. A recently released book explores several of the most interesting and successful of these projects. Retrofitting Suburbia documents dilemmas the nation faces as a result of changing demographics and volatile economic conditions." (Residential Architect, 6/3/09)
"Retrofits, as they're called, take a variety of forms, from "raze it all and start anew" to creative adaptation of an existing space, such as the Food Lion supermarket in Denton, Texas, that became a public library. Each process shares common goals: reduce the blight, scale down sprawl, cut car traffic, amp up foot and bicycle access, and eliminate barriers between residential and retail space. In "Retrofitting Suburbia," Ms. Dunham-Jones and Williamson argued that similar revitalizations are necessary to accommodate the rapidly changing suburban culture." (Christian Science Monitor, 5/22/09)
"Dunham-Jones and Williamson use real-world case studies to show how older (or even empty) office parks, malls, and residential subdivisions can be reinvented and revitalized through changes in transit patterns, rezoning for mixed use, and adaptive reuse of existing buildings and roads. The book is jam-packed with innovative cases spanning small and large scale projects, and frames them within the context of urban planning theory." (Popgadget.net, 5/19/09)
"Retrofitting Suburbia overflows with innovative examples, from decreprit Walmarts reimagined as elegant churches, to derelict edge-city highway strips transformed into multi-purpose boulevards. The book's ultimate goal is to create a sort of primer in what the authors call "incremental metropolitanism" - a design philosophy that sees Jane Jacobs' spirit living on in the repurposing of "ghostboxes" (abandoned big box retail outlets). Retrofitting Suburbia assembles all the essential tools a designer needs to join new frontier of sustainability." (Azure Magazine, April 29th, 2009)
"I love books. I have hundreds of them. Many are great resources. But none have proved as valuable as the recently published Retrofitting Suburbia. The introduction does a wonderful job of explaining "urban versus suburban form." Every elected official in every local of government needs to read this book cover to cover." (Urban Review STL, April 28th, 2009)
"An excellent recent book called Retrofitting Suburbia is essential reading for anyone interested in just how much possiblity there is in the reimagining of suburban space as sustainable space." (CivicCamp, April 17th, 2009)
"…a timely book co-written by Atlantan Ellen Dunham-Jones, proposes a way to turn dead malls - as well as ailing office parks, older subdivisions and strip-center-lined aretrial roads into lively places. She and co-author June Williamson have adapted those principles to mint what you might call New Suburbanism." (The Atlanta Journal-Constitution, April 12th, 2009)
"…do a splendid job of explaining and illustrating what they call "incremental metropolitanism" in Retroftting Suburbia. The authors make clear at the beginning that by "urban" and "suburban" they are talking about the kinds of built environments that can appear anywhere." (American Planning Association, April 2009)
"The American suburb as we know it is dying. The suburbs need to be remade, and just such a transformation is under way in regions that were known for some of the worst sprawl in the U.S. communities. Many Americans will still prefer the space of the suburbs - including the parking spaces. People want to balance the privacy of the suburbs with more public and social areas" says Dunham-Jones. But the result will be a U.S. that is more sustainable - environmentally and economically." (Time Magazine, March 12th, 2009)
"…is the latest volume to tackle the complex problems of urban-suburban flux. The authors rightly explain that the city and suburbia are intimately interrelated rather than oppositional, and that suburbia is constantly evolving, with many older suburbs around the United States today ripe for urbanization.This book is important and well-intentioned, and its subject is certainly deserving." (The Architect's Newspaper, March 4th, 2009)
"If I am right, and central cities alone can't handle the growing demand for urban living, then there is only one practical choice: we are going to have to urbanize the suburbs. This, in fact, is the premise of this new splendid book by two architecture professors. They argue that the remaking of the american suburb not only needs to happen but already is happening, in places scattered all over the country. And they offer reporting and superb photography to back up their claim." (governing.com-Alan Ehrenhalt, March 1, 2009)
"Architects Ellen Dunham-Jones and June Williamson confront the challenge of redeveloping abandoned suburban retail space in their new book, Retrofitting Suburbia. The detailed text also explores several creative solutions in which progressive planning has reinvigorated suburban communities nationwide." (Popular Mechanics, February 2nd, 2009)
"Most of the book's case studies involve projects of 40 acres or more. The authors say large projects are needed to achieve the critical mass necessary to induce behavioral change," such as encouraging more walking and less driving." (New Urban News; Jan-Feb 2009)
"With some of the nation's fastest growth occurring in many suburban communities over the last couple of decades, some current residents might ask why do suburbs need to be designed? Yet, changes taking place in the American economy, marketplace, lifestyles, demographics and design philosophies have necessitated a re-thinking of how we have traditionally ordered our outlying residential communities. Ellen Dunham-Jones and June Williamson make a strong case for this in Retrofitting Suburbia." (chicagoarchitecturetoday.com; 1/09)
"What's happening around the country is that such places as dead shopping malls, underperforming industrial and business parks, empty big-box stores, worn-out strip malls, aging garden apartments and older subdivisions near transit stops are being changed into vibrant, mixed-use development of various kinds. This - the point of the book - is a good thing. Perhaps its most important contribution is a vision of metropolitan regions that have a number of vibrant and populous town centers." (The Hartford Courant; 1/11/09)
"This is the first book I've come across that is specifically targeted at how to redevelop and reposition suburbs for the 21st century world. I think the case studies are particularly relevant. The book provides many examples to study, in areas ranging from enclosed malls to edge cities. The authors are pretty fair in showing both the good and the bad of these. Given the wealth of case studies and reference materials, I think that this is a book that deserves to be on the shelf of leaders in all suburbs in need of redevelopment." (theurbanophile; 1/10/09)

"…the greatest threat to suburbs over the next decade is this: "There might not be enough people to live in them." So says June Williamson, author of Retrofitting Suburbia. In the 1950's, 50 percent of American households had children. Now, says Williamson, that percentage has shrunk to 35; by 2030, it'll be down to 25 percent. So suburbia is due for a massive makeover. Yes, it's time for a retrofit." (grist.org; 1/15/09)
"Dunham-Jones said big-box enclosed malls have become a dying breed as more shoppers prefer going to shop at strip malls or "lifestyle" open-air mall. In an upcoming book, "Retrofitting Suburbia", co-authored by Dunham Jones, she's included case studies of places across North America that have turned dead malls or big-box stores into thriving community centers." (CnnMoney.com; 12/17/08)
"Its encouraging to see that there are enough suburban retrofits to fill a whole book. Retrofitting Suburbia helps provide evidence the new administration needs to put together a broad spectrum program that will create jobs, improve quality of life for all, and energy independence." (metrpolismag.com; 12/24/08)
With hands-on lessons for architects and planners, this guide to redesigning suburbs provides those interested in sustainability and smart growth with alternatives to the norms of sprawl. The book:
Documents innovative case studies of prototypical American suburban developments (malls, commercial strips, office parks, cul-de-sac subdivisions) that have been retrofitted to new uses and forms.
Provides examples of how a dead mall can be transformed into a thriving mall and office park with transit-oriented downtown, how malls can incorporate housing and other mixed uses, and how a failed mall can be converted to wetland or public park.
Covers retrofits of office and industrial parks, residential subdivisions, and suburban apartment complexes.