Self-Ligation in Orthodontics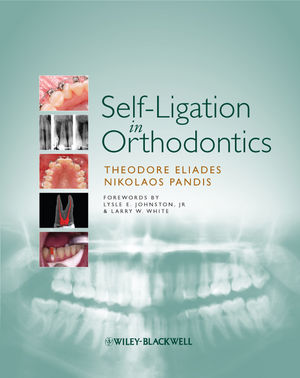 Self-Ligation in Orthodontics
ISBN: 978-1-405-18190-7 May 2009 Wiley-Blackwell 208 Pages
Description
Self-Ligation in Orthodontics is a major new text that reviews, analyses and clarifies the currently available peer-reviewed evidence on a number of applications of this technology, espousing diverse perspectives to make this a unique scientific resource on self-ligation.

The book embraces all aspects of self-ligating brackets, extending from therapeutic outcome, to biomechanics, materials, and treatment manifestations. Each chapter addresses a specific question pertinent to the properties and clinical performance of self-ligating brackets including: force and moment generation during engagement; temporal variation of force in active self-ligating brackets; periodontal considerations and oral microbiota alterations; root resorption; treatment efficiency and associated dental effects.

A work of substantial, thoughtful, and useful scholarship, Self-Ligation in Orthodontics will be a significant resource for clinicians and researchers in orthodontics, and related dental specialists.
First comprehensive resource on self-ligation in orthodontics
Surveys available peer-reviewed evidence
Epitomizes the management of self-ligating treatment suggesting important treatment concepts and tips for the practicing clinician
Includes diverse perspectives to provide a balanced and scholarly approach
Richly illustrated with detailed color clinical images
Contributors
Foreword (Lysle E. Johnston, Jr).
Foreword (Larry W. White).
Preface
Acknowledgments
Dedication
Introduction
Development of Light Force Orthodontics: the Original Pin-a-slot Appliance as Ancestor to Modern Brackets (Jeffrey S. Thompson and William J.Thompson ).
Introduction
Pin-a-slot appliances
1 Historical Aspects and Evolution of Ligation and Appliances (Nigel Harradine).
Introduction
Early ligatures
Elastomeric ligatures
Begg pins
Self-ligation
THE MATERIALS SCIENCE AND BIOMECHANICS OF SELF-LIGATION
2 The Significance of Bracket Material Properties in Orthodontic Mechanics (Theodore Eliades, Spiros Zinelis and William A. Brantley).
Introduction
Bracket base
Wings
Base–wing joint
Bracket slot
3 Biomechanics of Self-Ligation: Analysis of Forces and Moments Exerted by Self-ligating Brackets (Nikolaos Pandis, Theodore Eliades and Christoph Bourauel).
Introduction
Forces generated during initial alignment with self-ligating and conventional brackets
Forces generated by conventional and self-ligating brackets during simulated intrusion–extrusion and bucco-lingual correction
Moments generated during simulated rotational correction with self-ligating and conventional brackets
Consistency in the ligation force with active self-ligating brackets throughout treatment
TREATMENT OUTCOME-CLINICAL PERFORMANCE
4 Essentials of Clinical Research Design (Argy Polycrhonopoulou).
Introduction
Study design
Non-experimental/observational studies
Experimental studies/intervention studies
Conclusion
5 Determinants of Tooth Movement: Molecular Response of Periodontal Ligament and Bone to Loading (Efthimia K. Basdra).
Introduction
Periodontal ligament
Orthodontic tooth movement
6 Efficiency and Treatment Outcome with Self-Ligating Brackets (Nikolaos Pandis, Peter Miles and Theodore Eliades).
Introduction
Treatment duration
Dental arch changes
Torque delivery
Space closure
Handling efficiency
Discomfort
7 Root Resorption in Orthodontics (M. Ali Darendeliler and Lam L. Cheng).
Introduction
History of OIIRR
Incidence of OIIRR
Location of OIIRR
Severity of OIIRR
Diagnosis of OIIRR
Pathogenesis of OIIRR
Light microscopy of OIIRR
Scanning electron microscopy of OIIRR
Biochemistry and molecular biology related to OIIRR
Physical properties of orthodontically induced inflammatory root resorbed cementum
Factors affecting OIIRR
Repair of OIIRR
Orthodontic relapse and OIIRR
Clinical consequences of OIIRR
Prevention and management of OIIRR
8 Root Resorption with Self-Ligating Brackets (Maria Mavragani, Nikolaos Pandis and Theodore Eliades).
Introduction
Relevant literature
Potential factors affecting OIIRR
9 Attachment of Oral Microbiota to Dental Surfaces (Daniel J. Smith).
Introduction
The oral bacterial challenge
Salivary component interactions with oral bacteria
Adaptive immunity in the oral cavity
10 Salivary Levels of Cariogenic Bacteria in Patients Treated with Self-Ligating and Conventional Brackets (William Papaioannou, Nikolaos Pandis and Theodore Eliades).
Introduction
Effect of orthodontic therapy on oral cariogenic bacteria
11 Periodontal Impact of Orthodontic Treatment with Self-Ligating Brackets (Jan van Gastel, Marc Quirynen, Wim Teughels and Carine Carels).
Introduction
Short-term effects
Long-term effects
Different bracket systems
12 Treatment Mechanics with Self-Ligating Brackets (David Birnie).
Introduction
Diagnostic philosophies
Aspects of clinical biomechanics
Archwire sequencing with self-ligating brackets
Tooth movement
Retention
Index
"The introduction and subsequent 12 chapters have been written by a pool of 18 internation authors.  Each chapter is supported by literature references and there is a four-page index." (BDA News, December 2010)