Social Theory and Sociology: The Classics and Beyond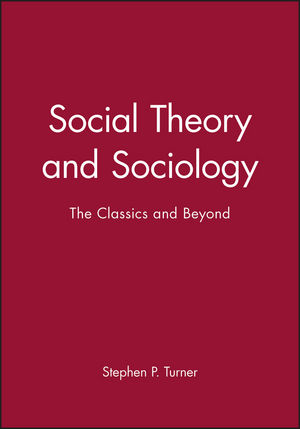 Social Theory and Sociology: The Classics and Beyond
ISBN: 978-0-631-19193-3 November 1996 Wiley-Blackwell 320 Pages
Description
This Timely volume represents an attempt by leading practitioners in the field to think reflexively about the present state of social theory and its historical analogues, and to consider new directions opposed to the "classical" social theorists, as well as new uses of the classics.
Social Theory and Sociology
begins to address a problem that is salient for students as well as academics, namely, why and how does the legacy of social theory matter? What is the value of what we are learning?
No attempt is made to dodge these tough questions and some very different answers are provided. Ranging from classic figures such ad Marx top the new theoritical approaches deriving from science and tehnology studies, this book represernts a multivoiced, radically diverse consideration of what "theroy" is all about now, at the end of the century.

Social Theory and Socioloogy will be esentail reading for advanced undergraduates and above of social theory-primarily those studying sociology and cultural studies-thouhjh it is also relevant for those in other humanities and social science departments.
Table of contents
1. Introduction: Social Theory and Sociology. (Stephhen P. Turner).
Part I.
2. The Centrality of the Classics. (Jeffrey Alexandera).
3. Lego quia inutile: An alternative justification for the classics. (Gianfranco Poggi).
Part II.
4. Three ideologies or one? The pseudo-battle of modernity. (Immanuel Wallerstein).
5. Whose Classics? Which reading? Interpretation and cultural difference in the canonization of sociological theory. (Craig Calhoun).
6. Crises of modernity. Political sociology in historical contexts. (Peter Wagner).
Part III.
7. Measurement and the two cultures of sociology. (John R. Hall).
8. Marxism after communism. (Erik Olin Wright).
9. Standpoint epistemology (a feminist version): How social disadvantage creates epistemic advantage. (Sandra Harding).
10. The centrality of culture in social theory. Fundamental clues from Weber and Durkheim. (Anne E. Kane).
Part IV.
11. Towards a reflexive sociology. A workshop with Pierre Bourdieu. (Loic J. D. Wacquant).
12. Homo sociologicus: Do we need him/her? (Peter Abell).
13. Science and technology studies and the renewal of social theory. (Steve Woolgar).
14. Theory then/theory now (or, 'The sociology is about to begin, said the man with the loudspeaker') (Alan Sica).
Index.
What's New
* Key feature is that this volume brings together a number of radically diverse view points on a question of great importance - Does what has gone on under the heading "Social Theory" have any relevance today - Contributors are representatives of different traditions, genorations and national backgrounds and view points are radically different/diverse - from rational choice theorist to cultural studies analysts.
* Editoral introductions contextualise each part: Full Bibliographical support directs the reader to further study.