Soils and Waves: Particulate Materials Behavior, Characterization and Process Monitoring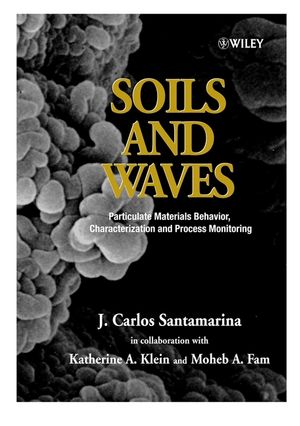 Soils and Waves: Particulate Materials Behavior, Characterization and Process Monitoring
ISBN: 978-0-471-49058-6 February 2001 508 Pages
Description
J. Carlos Santamarina, Georgia Institute of Technology, USA in collaboration with Katherine A. Klein, University of Toronto, Canada; Moheb A. Fam, Cairo University, Egypt

Soils are unique materials. Analogous to all other particulate materials, their properties depend on environmental parameters, such as confinement and fluid characteristics. While their behavior is complex, simple micromechanical analyses at the particle level provide unparalleled insight. Furthermore, elastic and electromagnetic waves can be effectively used to gain complementary information about the particulate medium, leading to unique possibilities for studies in engineering and science, including field applications for site assessment and process monitoring.

This book is divided into five parts. The first part dwells on the problem of scale and includes a general introduction to materials. In the second part, the behavior of particulate materials is reviewed, with emphasis on the microscale interpretation of macroscale behavior. Fundamental differences between fine and coarse particulate materials are highlighted. The third and fourth parts center on the propagation of mechanical and electromagnetic waves in particulate materials, addressing phenomena such as stiffness, polarization and losses. These two units include laboratory techniques to measure the elastic and electromagnetic spectral response of particulate materials, and an extensive compilation of experimental data. Finally, the fifth part applies elastic and electromagnetic waves to monitoring process in soils.

Emphasis is placed on clear, simple analyses and explanations of complex physical phenomena, making this book ideal for self-study. Furthermore, no other book provides such an in-depth description of soils and their behavior and the interaction of elastic and electromagnetic waves and particulate materials (including material data and experimental methods). Thus, this is an invaluable reference for postgraduates, research scientists and practitioners in geotechnical, civil and environmental engineering, as well as scientists in related areas such as physics, geophysics and materials science.
Table of contents
PART ONE: INTRODUCTION.

Chapter 1: Materials And Scales.

PART TWO: PARTICULATE MATERIALS.

Chapter 2: Characterization Of Particles And Particulate Media.

Chapter 3: Particle-Fluid Interactions.

Chapter 4: Load-Deformation Behavior.

Chapter 5: Conduction And Diffusion -
Soil Behavior.

PART THREE: ELASTIC WAVES AND SOILS.

Chapter 6: Elastic Waves In The Continuum.

Chapter 7: Elastic Waves In Particulate Media.

Chapter 8: Velocity And Attenuation: Data And Empirical Relations.

Chapter 9: Laboratory Measurement Methods.

PART FOUR: ELECTROMAGNETIC WAVES AND SOILS.

Chapter 10: Electromagnetism.

Chapter 11: Electromagnetic Properties: Physical Description And Analytical Models.

Chapter 12: Electromagnetic Properties: Data And Empirical Relations.

Chapter 13: Laboratory Measurement Methods.

PART FIVE: PROCESS MONITORING.

Chapter 14: Process Monitoring With Elastic And Electromagnetic Waves.

APPENDIX A: MATHEMATICAL CONCEPTS.

REFERENCES.
Extra
http://www.ce.gatech.edu/~carlos/Laboratory/public/Soils&Waves/Soils&Waves.html