Strategic Management Dynamics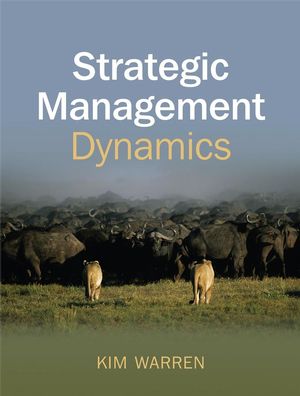 Strategic Management Dynamics
ISBN: 978-0-470-06067-4 December 2007 720 Pages
Description
A free sample of Chapter 4 "The Strategic Architecture" is available to view on the Student Companion Site. Please click on the 'Student Companion Site' link on the top right of this page.
All chapters along with the Table of Contents and Preface, are also available as free downloadable inspection copies for lecturers.  Please click on 'Instructor Companion Site' on the top right of this page and follow the links to register your details.
Strategic Management Dynamics is a development of Kim Warren's successful 'Competitive Strategy Dynamics' – winner of the 2005 Jay Wright Forrester Award for contributions to System Dynamics.  This new book is more than a 'second edition', it is substantially extended to increase its usefulness to teachers and students of Strategy and other management topics. 
Strategic Management Dynamics provides a complete framework in the field of Strategic Management. It combines theory with clearly illustrated examples to examine the concept of financial performance and the tools that can be used to improve it. The book goes on to highlight the importance of other factors that affect performance including staff turnover, competition, and so on.
JOIN THE DISCUSSION AT THE STRATEGIC MANAGEMENT DYNAMICS FORUM - http://www.kimwarren.com/forum/
Cannot be combined with any other offers.
Table of contents
Preface.
Acknowledgements.
How to Use This Book.
Chapter 1. Performance through time.
The performance imperative.
The management challenge: improving future performance.
Timescales.
Performance aims in different contexts.
Functional performance objectives.
Information needs.
Case example: performance of Ryanair, the low-fare airline.
Suggested questions and exercises.
Using Worksheet 1.
Worksheet 1.
Notes.
Chapter 2. Resources drive performance.
From performance to resources.
The resource-based view of strategy.
Identifying, specifying and measuring tangible resources.
Suggested questions and exercises.
Using Worksheet 2.
Worksheet 2.
Notes.
Chapter 3. Resource accumulation.
Winning and keeping resources: "bathtub behaviour".
Defining and measuring resources and their flows.
Resource flows change over time.
Practical examples of the importance of resource flows.
Resource building in Ryanair.
What drives resource flows?
Changing state versus changing activity.
Segmentation.
Casual ambiguity and problems with correlation.
Resources, flows and the value chain analysis.
Adding "lumps" of resource.
Suggested questions and exercises.
Using Worksheet 3.
Worksheet 3.
Notes.
Chapter 4. The strategic architecture.
Interdependence: resource flows depend on existing resource levels.
Feedback effects arising from interdependence.
The strategic architecture.
The strategic architecture and other approaches to mapping strategy.
Suggested questions and exercises.
Using Worksheets 4 and 5.
Worksheet 4.
Worksheet 5.
Notes.
Chapter 5. Resource attibutes.
'Attributes' of tangible resources.
Resources and attribute "co-flows".
The resource quality curve.
Attributes that bring access to other potential resources.
Resources carrying multiple attributes.
Resources attributes and performance at Ryanair.
Other uses of the resource attribute concept.
Incorporating attribute analysis in strategy development.
Suggested questions and exercises.
Using Worksheets 6a, b and c.
Worksheet 6a.
Worksheet 6b.
Worksheet 6c.
Notes.
Chapter 6. Resource development.
Resource development within the organization.
Developing resources beyond the organization's boundaries.
Resource development in noncommercial cases.
Resource development in Ryanair and other airlines.
Relating resource development to the strategic architecture.
Using Worksheets 7a-d, 8 and 9.
Worksheet 7a.
Worksheet 7b.
Worksheet 7c.
Worksheet 7d.
Worksheet 8.
Worksheet 9.
Notes.
Chapter 7. The dynamics of rivalry.
Illustrating the three types of rivalry: coffee stores.
Further issues in type-1 rivalry.
Extending type-2 rivalry.
Extending type-3 rivalry.
Extending rivalry to resources other than customers.
Rivalry in noncommercial situations.
Dealing with multiple competitors.
Rivalry in the low-fare airline industry.
Suggested questions.
Using Worksheets 10-12.
Worksheet 10a.
Worksheet 10b.
Worksheet 11.
Worksheet 12.
Notes.
Chapter 8. Goals and controls.
Evaluating strategic opportunities.
Choosing a strategy.
Designing a path to success.
Steering strategy.
Policy to control strategy.
Strategy, policy and competition.
Conflicting objectives.
When multiple decisions affect the same resource.
Suggested questions and exercises.
Using worksheet 13.
Worksheet 13.
Notes.
Chapter 9. Intangible resources.
Intangibles concerning state-of-mind.
Information-based intangible resources.
Quality-based intangibles.
Integrating intangible resources into the strategic architecture.
Suggested questions and exercises.
Using worksheet 14.
Notes.
Chapter 10. Capabilities.
Example of capability effects.
Capabilities and business processes.
Developing capabilities: learning.
Capabilities and organizational learning.
Suggested questions and exercises.
Using worksheets 15a and 15b.
Worksheet 15a.
Worksheet 15b.
Notes.
Index.
New To This Edition
Extensive applications of established strategy frameworks, adapted to demonstrate dynamic principles, with numerous academic and managerial references as useful supplements in degree courses and executive education

Multiple small simulation models to demonstrate dynamics principles – in marketing, human-resource management, and operations management, as well as in Strategy – ideal for class exercises and assignments

A detailed worked example, built up from chapter to chapter, illustrating the key frameworks of strategy dynamics analysis in a well-known sector – airlines, allowing the book to be used with the many popular cases in the field

End-of-chapter questions and exercises, supported by detailed worksheets

Extensive instructor support materials.
Features
Builds on, but goes substantially beyond, the contribution of existing strategy textbooks

Brings strategy to life with its focus on understanding and improving how organisations perform over time

Includes the cumulative development of strategy analysis in a widely used case-situation (airlines) plus numerous examples in sectors where other existing case studies may be used

More pedagogy and learning features to make the text more accessible as a complete course

An approach that ensures that students on a wide-range of courses can use the text.