Structure and Surface Reactions of Soil Particles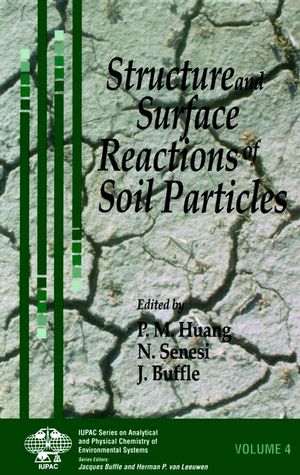 Structure and Surface Reactions of Soil Particles
ISBN: 978-0-471-95936-6
Feb 1998
506 pages
Description
The IUPAC Series on Analytical and Physical Chemistry of Environmental Systems provides the scientific community with a critical evaluation of the state of the art on physicochemical structures and reactions in environmental systems, as well as on the analytical techniques required to study and monitor these systems. The series is aimed at promoting rigorous analysis and understanding of physicochemical functioning of environmental systems.

Soils are a major component of the ecosystem. A fundamental awareness of soil structures and processes at the molecular and microscopic level is therefore essential to understanding and regulating the behaviour of environmental systems and the circulation and impact of anthropogenic compounds. Structure and Surface Reactions of Soil Particles addresses the basics of structure and surface reactions of both soil particles and colloids and describes their characterization and properties. New approaches using fractal analysis of particle dimensions, aggregation and surface reactions, computer modelling of the structure and reactivity of humics and applications of atomic force microscopy are given special treatment. Advanced instrumentation for analysis of soil particles which help to model the processes in the soil are also reviewed. Structure and Surface Reactions of Soil Particles is the definitive guide to the analysis of soils for chemists and biologists working in environmental analysis and soil chemists studying the effect of landfills and working on soil restoration.
Partial table of contents:

MINERALS-ORGANICS-MICROORGANISMS INTERACTIONS AND CHARACTERIZATION OF SOIL PARTICLES.

From Particles to Architecture: Fractals, Aggregation and Scaling in Soil Science (J. Crawford & B. Sleeman).

Fractal Principles and Methods Applied to the Chemistry of Sorption onto Environmental Particles (I. Okuda & N. Senesi).

ADVANCED INSTRUMENTATION IN ANALYSIS OF SOIL PARTICLES.

Electron Microscopy of Soil Components (Y. Chen).

Applications of NMR Spectroscopy to the Study of the Chemistry of Environmental Interfaces (W. Earl & C. Johnston).

Electron Spin Resonance Spectroscopy of Organic and Mineral Soil Particles (M. Cheshire & N. Senesi).

REACTIONS AND PROCESSES AT THE SOIL PARTICLE-SOLUTION INTERFACE.

Ion Adsorption at the Soil Particle-Solution Interface: Modeling and Mechanisms (S. Goldberg).

Kinetics of Sorption/Release Reactions on Natural Particles (D. Sparks).

Kinetics of Enzyme Reactions in Soil Environments (P. Nannipieri & L. Gianfreda).

Index.