Studies in Ethnomethodology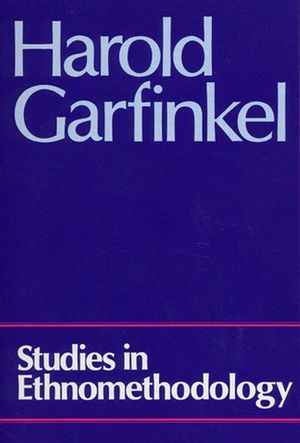 Studies in Ethnomethodology
ISBN: 978-0-745-60005-5 September 1984 Polity 304 Pages
Description
This is the first appearance in paper back of one of the major classics of contemporary Sociology.
Studies in Ethnomethodology
has inspired a wide range of important theoretical and empirical work in the social sciences and linguistics. It is one of the most original and controversial works in modern social science and it remains at the centre of debate about the current trends and tasks of sociology and social theory.
Ethnomethodology - the study of the ways in which ordinary people construct a stable social world through everyday utterances and actions - is now a major component of all sociology and linguistics courses. Garfinkel's formidable reputation as one of the worlds leading sociologists rest largely on the work contained in this book.
Studies in Ethnomethodology was originally published by Prentice Hall in 1967 and has remained in print ever since. It is widely used as a text book in this country and in the United States. This new paperback is a special student edition of Garfinkel's modern classic.
Table of contents
1. What is Ethnomethodology?.
2. Studies of the Routine Grounds of Everyday Activities.
3. Common Sense Knowledge of Social Structures: The Documentary Method of Interpretation in Lay and Professional Fact Finding.
4. Some Rules of Correct Decisions that Jurors Respect.
5. Passing and the Managed Achievement of Sex Status in the Intersexed Person.
6. "Good Organizational Reasons for 'Bad' Clinic Records".
7. Methodological Adequacy in the Quantitative Study of Selection Criteria and Selection Practices in Psychiatric Outpatient Clinics.
8. The Rational Properties of Scientific and Common Sense Activities.
Appendix.
Reviews
'Garfinkel's arguments are expressed with a power and richness that is singular and imperishable... The renewed availability of these classic studies will give rise to the widest understanding of Garfinkel's seminal arguments.' Times Higher Education Supplement