SuperMedia: Saving Journalism So It Can Save the World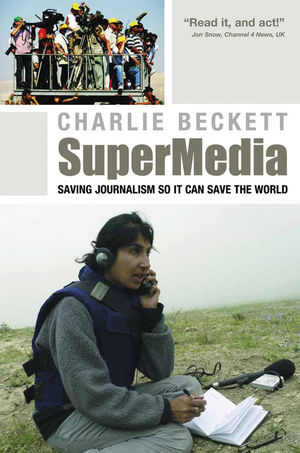 SuperMedia: Saving Journalism So It Can Save the World
ISBN: 978-1-405-17923-2 May 2008 Wiley-Blackwell 216 Pages
Description
SuperMedia
is a lively, engaging, and refreshingly-opinionated text offering informed discussion on the importance and future of liberal journalism as a healthy part of a flourishing society.
Examines the profound changes journalism is undergoing for social, economic and technological reasons
Explores the potential for a entirely new type of journalism which these changes create, discussing the impact of social networking sites and blogs on traditional journalism, and making the case that journalism could be the catalyst for change needed to solve many of the world's problems in a controversial manner
Written by a first class broadcast journalist, it provides a practical roadmap for identifying the issues and solutions that will ensure an open and reliable news media for generations to come
Table of contents
List of Figures.
Foreword.
Acknowledgments.
Introduction: "TheDailyPlanet.com": Why We Must Save Journalism So that Journalism Can Save the World.
1. "Help! Help! Who Will Save Us?": The New Media Landscape.
2. "Is It a Bird? Is It a Plane? No! It's SuperMedia!": Networked Journalism.
3. "Will Nobody Do Anything to Help?": Networked Journalism and Politics.
4. Fighting Evil: Terror, Community, and Networked Journalism.
5. We Can All be Super Heroes: Networked Journalism in Action: Editorial Diversity and Media Literacy.
Suggested Reading.
Index.
Reviews
"Beckett (London School of Economics) sees the growth of new media and technologies as an opportunity for, rather than a threat to, the traditional practices of journalism." (
CHOICE
, February 2009)
"His [Beckett's] work aspires to reach practitioners, citizen journalists, and academics. He proposes 'networked journalism,' a new philosophy of newswork that integrates user-generated content with citizen journalism. Through networked journalism, the traditional news media is encouraged to view itself as having a predominately social role." (International Journal of Communication)
"This is a strongly argued, well-sourced, knowledgeable piece of work … The most sustained and enthusiastic endorsement of citizen journalism I have read." (Financial Times, November 2008)
Beckett (London School of Economics) sees the growth of new media and technologies as an opportunity for, rather than a threat to, the traditional practices of journalism. However, he observes, those practices will need to change and adjust to take advantage of the opportunities offered by what he calls networking journalism. He believes that the many sources and voices competing, particularly on the Web, can and do produce better journalism in traditional media as well as on the Web--a contention he illustrates with case studies. Unfortunately, Beckett's idealism does not address the major problem of false information that infects the public sphere: as the 2008 presidential election demonstrated, too many people repeated lies that they had "read somewhere." Truth seldom travels as quickly as lies. What remains in question is what would happen to thoughtful, investigative, long-piece journalism in Beckett's scheme. The author provides brief bibliographies for each of the five chapters and helpful endnotes. Summing Up: Recommended. Professionals and general readers. – P. E. Kane, emeritus, SUNY College at Brockport (Choice, February 2009)
"This is a strongly argued, well-sourced, knowledgeable piece of work, informed by Beckett's time working on news and current affairs programmes at both the BBC and Channel 4 television. It is the most sustained and enthusiastic endorsement of citizen journalism I have read, displaying a faith in the power of journalism allied to that of an active citizenry." (Financial Times)
"Consider this a hearty recommendation ... British broadcast journalist Charlie Beckett stays on point in 170 pages of well-reasoned argument about exactly how journalism has already changed - and how today's journalists and journalism educators need to understand that so they can go forward, and not sit inert as their world collapses on their heads ... It's a positive book with clear, real-world examples from real journalism. It does not waste words and it doesn't lose itself in philosophical boilerplate. I think all journalists and journalism educators should read this book." (Teaching Online Journalism (blog))
Features
A lively, engaging, and refreshingly opinionated text offering informed discussion on the importance and future of liberal journalism as a healthy part of a flourishing society
Examines the profound changes journalism is undergoing for social, economic and technological reasons
Explores the potential for a entirely new type of journalism which these changes create, discussing the impact of social networking sites and blogs on traditional journalism, and making the case that journalism could be the catalyst for change needed to solve many of the world's problems in a controversial manner
Written by an acclaimed broadcast journalist, it provides a practical roadmap for identifying the issues and solutions that will ensure an open and reliable news media for generations to come