Surviving M&A: Make the Most of Your Company Being Acquired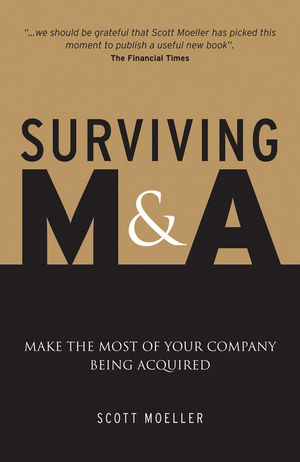 Surviving M&A: Make the Most of Your Company Being Acquired
ISBN: 978-0-470-77938-5 July 2009 264 Pages
Description
Practical tips and real-world advice for thriving professionally in the midst of a major M&A deal
As a follow-up to his highly popular book Intelligent M&A, author Scott Moeller expanded the chapter on surviving a merger into an in-depth discussion of the subject. Surviving M&A offers practical advice for professionals who worry about their jobs while their organizations are embroiled in the turmoil of a merger or acquisition. Moeller not only shows readers how to keep their jobs safe, but how to turn lemons into lemonade and actually move up the corporate ladder during the chaos of M&A. For anyone in this precarious position, this book offers smart ideas and winning tactics.
LIST OF FIGURES.
LIST OF SPOTLIGHTS (CASE STUDIES).
FOREWORD.
1 HOW TO USE THIS BOOK.
PART I: WHAT HAPPENS?
2 WHY SHOULD I BE INTERESTED IN M&A?
3 WHAT WILL HAPPEN TO ME NOW?
4 HOW WILL I FEEL?
5 WHY SOME PEOPLE WIN AND OTHERS LOSE.
6 THE M&A PROFESSIONALS.
PART II: SURVIVING.
7 SHOULD I STAY OR SHOULD I GO?
8 DEFENSE IS THE BEST OFFENSE.
9 NETWORKS AND CONTACTS.
10 ATTITUDE COUNTS.
11 THE POLITICS OF SELF-PROMOTION.
12 BE A "DOER".
POSTSCRIPT: CARPE DIEM.
KEY TERMS IN MERGERS AND ACQUISITIONS.
ACKNOWLEDGEMENTS.
OTHER USEFUL READING.
INDEX.