Sustainability Marketing: A Global Perspective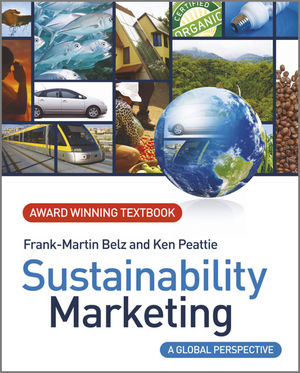 Sustainability Marketing: A Global Perspective
ISBN: 978-0-470-51922-6
Jun 2009
306 pages
Product not available for purchase
Description
WINNER of the VHB BEST TEXTBOOK AWARD 2010!
(Presented by the German Academic Association for Business Research)
Sustainability Marketing: A Global Perspective provides a new sustainability-oriented vision of marketing for the twenty-first century. It has a consumer marketing focus with an emphasis on integrating sustainability principles into both marketing theory and the practical decision making of marketing managers. The book shows how the complexities of sustainability issues can be integrated into marketing decisions through a systematic step-by-step approach. The steps involve an analysis of socio-environmental priorities to complement conventional consumer research; an integration of social, ethical and environmental values into marketing strategy development; a new consumer-oriented sustainability marketing mix to replace the outmoded and producer-oriented '4 Ps'; and finally an analysis of how marketing can go beyond responding to social change to contribute to a transformation to a more sustainable society. Without taking such steps, marketing will continue to drive global crises linked to climate change, poverty, food shortages, oil depletion and species extinction, instead of helping to tackle them.
The book is ideally suited to both students and practitioners at many different levels and disciplines including marketing, business and sustainability or environmental management.
Preface
PART I Understanding Sustainability and Marketing
1 Marketing in the Twenty-First Century
A Very Short History of the World
The Twentieth Century – The Century that Transformed the World
Challenges for the Twenty-First Century
Sustainable Development – Towards Transformation
The Evolution of Marketing Thought
The Marketing of the Future
Towards Sustainability Marketing
2 Framing Sustainability Marketing
Evolution of Marketing
Emergence of Sustainability Marketing
Elements of Sustainability Marketing
Corporate Social Responsibility (CSR)
PART II Developing Sustainability Marketing Opportunities
3 Socio-ecological Problems
Socio-ecological Problems on a Macro Level
Sources
Sinks
Socio-ecological Impact of Products on a Micro Level
The Role of Media
4 Sustainable Consumer Behaviour
Sustainability and Consumption
The Consumption Process
Understanding Sustainable Consumer Behaviour
Sustainable Consumption in Context
Key Consumption Contexts
Consumer Behaviour for Sustainability
Harnessing Consumer Behaviour for Sustainability
PART III Developing Sustainability Marketing Standards and Strategies
5 Sustainability Marketing Values and Objectives
Sustainability Marketing: Basic Assumptions and Values
Sustainability Marketing Values
Sustainability Marketing Objectives
6 Sustainability Marketing Strategies
Marketing Strategy and Sustainability
Understanding the Marketing Environment
Sustainability Marketing Strategy
Sustainability Innovations
Sustainable Strategic Relationships
Identifying Critical Issues for Sustainability Strategies
PART IV Developing the Sustainability Marketing Mix
7 Customer Solutions
Marketing Myopia
Customer (Pre-)Purchase Solutions
Customer Use Solutions
Customer Post-Use Solutions
Holistic Systems Approaches to Providing Customer Solutions
Sustainability Branding
8 Communications
The Ambivalence of Communication
Sustainability Marketing Communication in Context
Sustainability Product Communication
Sustainability Marketing Messages
Communication Throughout the Consumption Process
The Credibility of Sustainable Product Claims
Sustainability Corporate Communications
The Consumer as Communicator
9 Customer Cost
Total Customer Cost: The Consumer Perspective
Total Customer Cost: The Marketer Perspective
The Nature of Price Systems
10 Convenience
Consumption and Convenience
Convenience in Purchase
Delivering Sustainability and Convenience in Purchase
Convenience in Use
Convenience in Post-Use
Online Convenience
PART V Developing the Future of Sustainability Marketing
11 Sustainability Marketing Transformations
Sustainability Marketing Transformations: The Outside-In Perspective
Sustainability Marketing Transformations: The Inside Perspective
Sustainability Marketing Transformations: The Inside-Out Perspective
12 Reframing Sustainability Marketing
Thinking Again about Sustainability Marketing
Social Marketing and Sustainability
Towards a More Sustainable Economy
From Sustainability Micromarketing to Sustainability Macromarketing
Towards a 'One Planet' Economy
Conclusions: A Final Rethink
Index
Global, long term perspective.

Interdisciplinary approach which reconsiders key elements of marketing theory and practice, in relation to the major social and environmental challenges of the Twenty First Century. This includes climate change, enduring global poverty and the fall-out from the recent 'credit crunch.'

Illustrates the dynamic nature of the relationships between companies and their external environment to demonstrate how business can shape, as well as respond to, developments in the social and physical environment.

An applied approach that uses illustrative case examples from all over the world to show the growth in sustainability marketing in practice, and its international applicability.