Terminator and Philosophy: I'll Be Back, Therefore I Am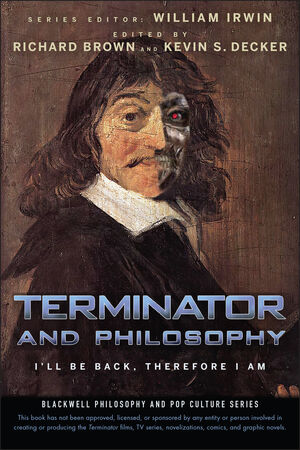 Terminator and Philosophy: I'll Be Back, Therefore I Am
ISBN: 978-0-470-44798-7 April 2009 304 Pages
Description
A timely book that uses science fiction to provoke reflection and discussion on philosophical issues
From the nature of mind to the ethics of AI and neural enhancement, science fiction thought experiments fire the philosophical imagination, encouraging us to think outside of the box about classic philosophical problems and even to envision new ones. Science Fiction and Philosophy explores puzzles about virtual reality, transhumanism, whether time travel is possible, the nature of artificial intelligence, and topics in neuroethics, among other timely issues. This thought-provoking volume is suitable for students and general readers but also examines new and more advanced topics of interest to seasoned philosophers and scientists.
Susan Schneider (Hometown TK) is Assistant Professor in the department of philosophy at the University of Pennsylvania and an Affiliated Faculty Member at the Institutes for Research in Cognitive Science and Center for Cognitive Neuroscience.
Introduction: The Rise of the Philosophers.
I. LIFE AFTER HUMANITY AND ARTIFICIAL INTELLIGENCE.
Chapter 1: The Terminator Wins: Is the Extinction of the Human Race the End of People, or Just the Beginning? (Greg Littmann).
Chapter 2: True Man or Tin Man? How Descartes and Sarah Connor Tell a Man from a Machine (George Dunn).
Chapter 3: It Stands to Reason: Skynet and Self-Preservation (Josh Weisberg).
Chapter 4: Un-Terminated: The Integration of the Machines (Jesse W. Butler).
II. WOMEN AND REVOLUTIONARIES.
Chapter 5: ""I Know Now Why You Cry"": Terminator 2, Moral Philosophy, and Feminism (Harry Chotiner).
Chapter 6: Sarah Connor's Stain (Jennifer Culver).
Chapter 7: James Cameron's Marxist Revolution (Jeffrey Ewing).
III. CHANGING WHAT'S ALREADY HAPPENED.
Chapter 8: Bad Timing: The Metaphysics of The Terminator (Robert Delfino and Kenneth Sheahan).
Chapter 9: Time for the Terminator: Philosophical Themes of the Resistance (Justin Leiber).
Chapter 10: Changing the Future: Fate and the Terminator (Kristie Lynn Miller).
Chapter 11: Judgment Day is Inevitable: Hegel and the Futility of Changing History (Jason Blahuta).
IV. THE ETHICS OF TERMINATION.
Chapter 12: What's So Terrible About Judgment Day? (Wayne Yuen).
Chapter 13: The War to End All Wars? Killing Your Defense System (Phillip Seng).
Chapter 14: Self-Termination: Suicide, Self-Sacrifice, and the Terminator (Daniel P. Malloy).
Chapter 15: What's So Bad about Being Terminated (Jason T. Eberl).
Chapter 16: Should John Connor Save the World? (Peter Fosl).
V. BEYOND THE NEURAL NET.
Chapter 17: ""You Gotta Listen to How People Talk"": Machines and Natural Language (Jacob Berger and Kyle Ferguson).
Chapter 18: Terminating Ambiguity: The Perplexing Case of ""The"" (Richard Brown).
Chapter 19: Wittgenstein and What's Inside the Terminator's Head (Antti Kuusela).
Future Leaders of the Resistance.
Skynet's Database.
Index.