Terror and the Postcolonial: A Concise Companion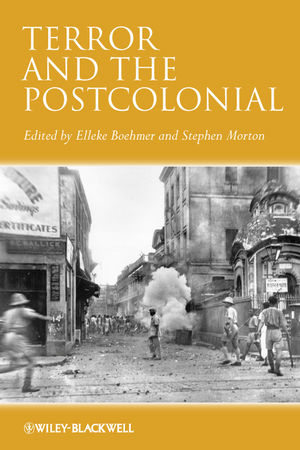 Terror and the Postcolonial: A Concise Companion
ISBN: 978-1-405-19154-8 October 2009 Wiley-Blackwell 408 Pages
Description
Terror and the Postcolonial is a major comparative study of terrorism and its representations in postcolonial theory, literature, and culture.
A ground-breaking study addressing and theorizing the relationship between postcolonial studies, colonial history, and terrorism through a series of contemporary and historical case studies from various postcolonial contexts
Critically analyzes the figuration of terrorism in a variety of postcolonial literary texts from South Asia, Africa, and the Middle East
Raises the subject of terror as both an expression of globalization and a postcolonial product
Features key essays by well-known theorists, such as Robert J. C. Young, Derek Gregory, and Achille Mbembe, and Vron Ware
Notes on Contributors.
Acknowledgments.
Introduction: Terror and the Postcolonial.
Part I: Theories of Colonial and Postcolonial Terror.
Part II: Histories of Post/colonial Terror.
Part III: Genres of Terror.
Index .
"This is a book written by academics but is perfectly suitable for the average reader.  The text is not too dry or overburdened with longwinded narrative, but is thought provoking and image-shattering.  Terror and the Postcolonial will take the wind out of the sails of anyone who believes we live in a world where terrorism is the sole property of extremists, religious zealots and bigots.  Terrorism has been around for much longer than since 9/11 and it is about time someone had the courage to admit our part in it." (M/C Reviews, November 2010)


A ground-breaking new study addressing and theorizing the conjunction between postcolonial studies, colonial history, and terrorism through a series of contemporary and historical case studies from various postcolonial contexts
Critically analyzes the figuration of terrorism in a variety of postcolonial literary texts from South Asia, Africa, and the Middle East
Raises the subject of terror as both an expression of globalization and a postcolonial product
Features key essays by well-known theorists, such as Robert J. C. Young, Derek Gregory, and Achille Mbembe, and Vron Ware