The Access Manual: Designing, Auditing and Managing Inclusive Built Environments, 3rd Edition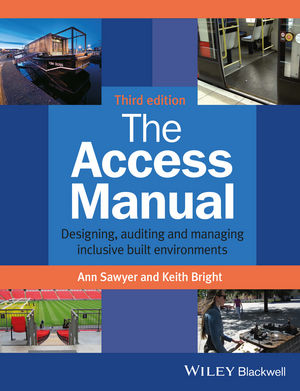 The Access Manual: Designing, Auditing and Managing Inclusive Built Environments, 3rd Edition
ISBN: 978-1-118-73074-4 July 2014 Wiley-Blackwell 288 Pages
Description
This manual covers the design, improvement, maintenance and management of accessible environments. It shows you how to provide and run buildings, services, and employment facilities to enable independent and convenient use by everyone.
The Access Manual was first published in November 2003 and has been used by architects and facilities managers needing to meet the requirements of new legislation in 2004. It was well received by design, management, access, and health professionals.
This is a fast-moving area and there are now several additional pieces of legislation and guidance central to inclusive design and making buildings accessible to all. This 3rd edition follows the same structure and approach and updates three main areas:
The Equality Act 2010
Building Regulations: Approved Documents to Parts M (2013) and K (2013)
British Standards:  amendment and updating of BS8300
The authors have also updated the material on access auditing, providing additional examples and sample access audit reports and access statements.
With its comprehensive information on standards, legislation and good practice, The Access Manual: designing, auditing and managing inclusive built environments, 3rd edition ensures you can:
be fully aware of the issues involved in accessibility and inclusive design
understand your legal obligations and the guidance available 
commission access audits
create and manage an access improvement programme
maintain accessibility in buildings and working practices
understand access issues in the design of new buildings
About the authors ix
Foreword by Malcolm Hankey xi
Acknowledgements xiii
About the Website xv
Introduction 1
Objectives of the manual 2
Chapter 1 Inclusive design 5
An inclusive approach 5
Principles of inclusive design 7
Benefits 8
How environments are used 9
Access appraisals 14
Access statements 16
Case study – Canada Water Library 22
Chapter 2 Legislation and regulations 27
Introduction 27
Equality Act 2010 28
Planning legislation 56
Building Regulations 59
Occupier Liability Acts 70
Human Rights Act 1998 73
Case study – The Vine Trust barge 74
Chapter 3 Standards and guidance 77
British Standards 77
Other sources of good practice guidance 81
Chapter 4 Access management 89
Introduction 89
Access audits 90
Access management 109
Case Study – Bramall Music Building 117
Chapter 5 Design criteria 121
Introduction 121
External environment 122
Entrances 136
Horizontal circulation 150
Vertical circulation 159
Facilities 185
Communication and wayfinding 209
Emergency egress 228
Appendix A General acceptability criteria 235
Access audit checklists 235
How to use the checklists 235
Appendix B Information sources 259
Guidance 259
Legislation, standards and codes 261
Useful organisations 262
Index 265