The Ancien Regime: A History of France 1610 - 1774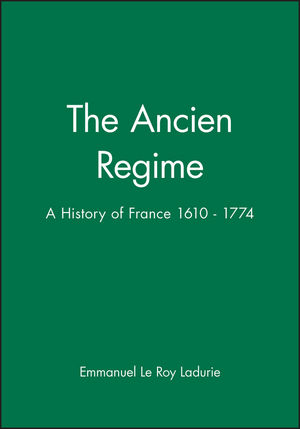 The Ancien Regime: A History of France 1610 - 1774
ISBN: 978-0-631-21196-9 November 1998 Wiley-Blackwell 596 Pages
Description
This is a story of brilliance, order and sophistication, of supreme confidence and great achievement - that begins in uncertainty and ends in iconoclasm.
Table of contents
List of Illustrations.
List of Tables and Graphs.
1. Temperate Monarchy in its Last Incarnation.
Part I: Absolutism in its True Grandeur:.
2. Reason of State and its Irrationalities.
3. France and the Fronde: the Age of Anne of Austria and Mazarin.
4. The Snake and the Sun.
5. Gallican Extremism.
6. Spain in the Heart.
Part II: Flexible and Adaptable: The New Absolutism:.
7. The Overture.
8. A Debonnaire Hercules.
9. Reaction and Retraction.
10. Public Opinion's First Successes.
11. Order, Authority, Realm.
Conclusion.
Appendix 1: Chronological Table.
Appendix 2: Statistical Tables.
Glossary.
Bibliography.
Index.
Reviews
"This volume, which includes a helpful chronological table and glossary, will be the standard history of France for years to come. The Ancien Regime is definitely the richest and most satisfying account of the political history of Bourbon France available in English." Reviews in History
Features
* The greatest age of France told by France's greatest living historian.
* The definitive narrative account of Louis XIII's and XIV's extraordinary reigns.
* The final volume to appear in Blackwell's acclaimed History of France.
* Brilliant and readable translation.