The Architects' Handbook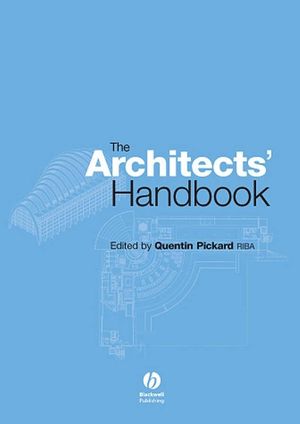 The Architects' Handbook
ISBN: 978-1-405-13505-4 September 2005 Wiley-Blackwell 464 Pages
Description
The Architects' Handbook provides a comprehensive range of visual and technical information covering the great majority of building types likely to be encountered by architects, designers, building surveyors and others involved in the construction industry. It is organised by building type and concentrates very much on practical examples.




Including over 300 case studies, the Handbook is organised by building type and concentrates very much on practical examples. It includes:




· a brief introduction to the key design considerations for each building type



· numerous plans, sections and elevations for the building examples



· references to key technical standards and design guidance



· a comprehensive bibliography for most building types




The book also includes sections on designing for accessibility, drawing practice, and metric and imperial conversion tables.


To browse sample pages please see http://www.blackwellpublishing.com/architectsdata
Preface.
Acknowledgements.
Contributors.
Airports.
Business Parks.
Cinemas.
Community Centres.
Crematoria.
Education: Schools.
Education: Universities and Colleges.
Education: Art, Design and Media Studios.
Farm Buildings.
Fire Stations.
Halls of Residence and Hostels.
Health Service Buildings.
Hospices.
Hotels.
Housing and Residential Buildings.
Industrial Buildings.
Laboratories.
Landscape Works.
Law Courts.
Libraries and Learning Resource Centres.
Museums and Art Galleries.
Office.
Pubs.
Religious Buildings.
Restaurants and Catering Facilities.
Shops and Retail.
Sports Facilities.
Theatres and Art Centres.
Vehicle Facilities.
Youth Hostels.
Zoos ad Aquariums.
Design for Accessibility.
Drawing Practice and Presentation.
Bibliography and References.
Conversion of Units.
Index.
"All too often, architects attempt to redesign the wheel. Why struggle to sort out the complexity of a modern building when you can learn from the great masters. If the best architects in the world have visited the problems before, the chances are they have something to teach us. This book, with its detailed information about ground breaking buildings, should change the way we assimilate practical technical information"
Maxwell Hutchinson
* available for first time in paperback (hardback £62.50)
* examines each main building type, with a brief introduction to the key design considerations
* features numerous plans, sections and elevations for the building examples
* provides references to key technical standards and design guidance plus a comprehensive bibliography for most building types
* includes over 300 case studies
* complements Neufert's Architects' Data which concentrates on measurements and data