The Black Book of Outsourcing: How to Manage the Changes, Challenges, and Opportunities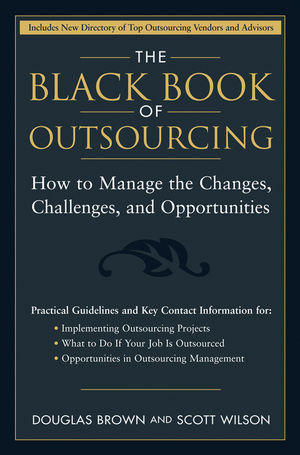 The Black Book of Outsourcing: How to Manage the Changes, Challenges, and Opportunities
ISBN: 978-0-471-71889-5 June 2005 384 Pages
Description
Revised for 2009 and beyond, The Black Book of Outsourcing is a comprehensive guide and directory for the evolving field of outsourcing, including expert advice on how to operate an outsourcing program. Valuable governance checklists, offshoring insights, best practices and one-of-kind resources are featured in this bible of the outsourcing industry. First published in 2005, this topical, bestselling manual explores the evolution of both outsourcing buyers and suppliers.

Outsourcing and research gurus Douglas Brown and Scott Wilson chart a course of advice for business leaders charged with managing sourcing initiatives, present a wealth of opportunities for job seekers, and offer insights for entrepreneurial thinkers and investors worldwide
Preface.
Introduction: Outsourcing: Opportunities and Challenges.
Part One: How to Plan, Lead, and Manage Outsourcing Initiatives.
Chapter 1: Overview of the Outsourcing Process.
Chapter 2: Making the Decision to Outsource.
Chapter 3: What You Need to Know before You Start.
Chapter 4: Assessing Cost, Benefit, and Risk for Your Outsourcing Venture.
Chapter 5: Outsourcing Options.
Chapter 6: Selecting Your Suppliers and Vendors.
Chapter 7: Managing Your Outsourcing Vendors.
Chapter 8: Navigating Contracts and Negotiations.
Chapter 9: New Career Opportunities in Outsourcing Management.
Chapter 10: Finding Top Outsourcers: Vendor Directory.
Chapter 11: Avoiding Common Outsourcing Mistakes.
Part Two: The Indispensable Guide to Finding an Outsourcing Career.
Chapter 12: Strategizing for Success in the New Global Economy.
Chapter 13: Learning to Market Yourself in the Global Economy.
Chapter 14: Hot Jobs in Outsourcing.
Chapter 15: Finding an Offshore, Nearshore, or Bestshore Job.
Part Three: The Indispensable Guide for Outsourcing Entrepreneurs.
Chapter 16: Starting Down the Entrepreneurial Path to Outsourcing.
Chapter 17: Capitalizing on the Outsourcing Start-Up Boom.
Chapter 18: Starting an Outsourcing Business.
Glossary.
Index.
"…a comprehensive introduction…" (Supply Management, 6th October 2005)