The Blackwell Encyclopedia of Social Work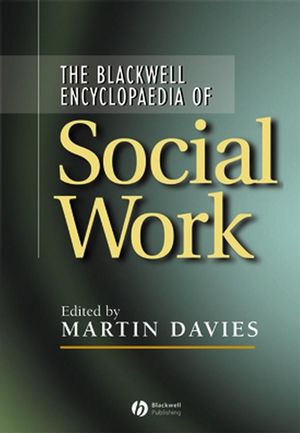 The Blackwell Encyclopedia of Social Work
ISBN: 978-0-631-21451-9 September 2000 Wiley-Blackwell 432 Pages
Description
The Blackwell Encyclopedia of Social Work provides a concise guide to 400 topics relevant to the practice of social work in the 21st Century. It brings together 250 top authors and covers all service user groups.
List of Advisers and Acknowledgements.
Preface.
Lexicon.
A-Z Entries.
The Topics Listed in this Encyclopaedia.
List of Contributors.
Index of Names.
Index of Subjects.
" Reading this handsome new encyclopaedia it is hard not to feel renewed conviction in the social work mission. From cover to cover the commitment and depth of understanding, the skills and interventions come tumbling out in an exciting, revivifying cascade-effective tonic for jaded cynicism.
Throughout the volume the vision and achievement of the editor are evident in the emphasis on constructive thinking and diversity of opinion." John Pierson, Staffordshire University <!--end-->

"Davies's well designed encyclopedia surveys the field of social work and is related discipline." Choice

"The Encyclopaedia does fulfill its aim: 'to provide accurate, up-to-date and lively explications of key topics in social work and in fields that are closely related to social work theory or practice.' The Encyclopaedia successfully encompasses both the value base of social work and its evidence base ... I think it is a very useful and innovative volume ... It is a rich source of information about the broad church which is social work." Journal of Social Work
A valuable reference source incorporating 140 clearly displayed 1000-word entries on major topics.

Provides a readable introduction to all the core topics relevant to social work in the United Kingdom and Ireland today.

Including a unique Lexicon that enables readers to gain instant access to all entries relevant to their special interest.

Offers an up-to-date bibliographical guide with over 500 suggestions for further reading.