The Cardiovascular System at a Glance, 4th Edition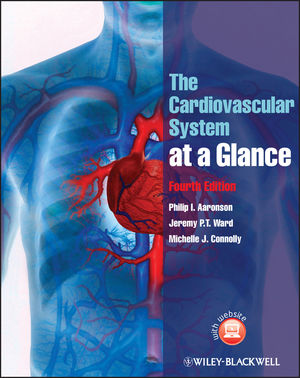 The Cardiovascular System at a Glance, 4th Edition
ISBN: 978-0-470-65594-8 October 2012 Wiley-Blackwell 136 Pages
Description
This concise and accessible text provides an integrated overview of the cardiovascular system - considering the basic sciences which underpin the system and applying this knowledge to clinical practice and therapeutics. A general introduction to the cardiovascular system is followed by chapters on key topics such as anatomy and histology, blood and body fluids, biochemistry, excitation-contraction coupling, form and function, integration and regulation, pathology and therapeutics, clinical examination and investigation - all supported by clinical cases for self-assessment. Highly visual colour illustrations complement the text and consolidate learning.

The Cardiovascular System at a Glance is the perfect introduction and revision aid to understanding the heart and circulation and now also features:
An additional chapter on pulmonary hypertension
Even more simplified illustrations to aid easier understanding
Reorganized and revised chapters for greater clarity
Brand new and updated clinical case studies illustrating clinical relevance and for self-assessment
The fourth edition of The Cardiovascular System at a Glance is an ideal resource for medical students, whilst students of other health professions and specialist cardiology nurses will also find it invaluable. Examination candidates who need an authoritative, concise, and clinically relevant guide to the cardiovascular system will find it extremely useful.

A companion website featuring cases from this and previous editions, along with additional summary revision aids, is available at www.ataglanceseries.com/cardiovascular.
Table of contents
Preface 6
Recommended reading 6
Acknowledgements 7
List of abbreviations 8
Introduction
1 Overview of the cardiovascular system 10
Anatomy and histology
2 Gross anatomy and histology of the heart 12
3 Vascular anatomy 14
4 Vascular histology and smooth muscle cell ultrastructure 16
Blood and body fluids
5 Constituents of blood 18
6 Erythropoiesis, haemoglobin and anaemia 20
7 Haemostasis 22
8 Thrombosis and anticoagulants 24
9 Blood groups and transfusions 26
Cellular physiology
10 Membrane potential, ion channels and pumps 28
11 Electrophysiology of cardiac muscle and origin of the heart beat 30
12 Cardiac muscle excitation–contraction coupling 32
13 Electrical conduction system in the heart 34
14 The electrocardiogram 36
15 Vascular smooth muscle excitation–contraction coupling 38
Form and function
16 Cardiac cycle 40
17 Control of cardiac output 42
18 Haemodynamics 44
19 Blood pressure and flow in the arteries and arterioles 46
20 The microcirculation and lymphatic system, and diapedesis 48
21 Fluid filtration in the microcirculation 50
22 The venous system 52
23 Local control of blood flow 54
24 Regulation of the vasculature by the endothelium 56
25 The coronary, cutaneous and cerebral circulations 58
26 The pulmonary, skeletal muscle and fetal circulations 60
Integration and regulation
27 Cardiovascular refl exes 62
28 Autonomic control of the cardiovascular system 64
29 The control of blood volume 66
30 Cardiovascular effects of exercise 68
31 Shock and haemorrhage 70
History, examination and investigations
32 History and examination of the cardiovascular system 72
33 Cardiovascular investigations 74
Pathology and therapeutics
34 Risk factors for cardiovascular disease 76
35 β-Blockers, angiotensin-converting enzyme inhibitors, angiotensin receptor blockers and Ca2+ channel blockers 78
36 Hyperlipidaemias 80
37 Atherosclerosis 82
38 Treatment of hypertension 84
39 Mechanisms of primary hypertension 86
40 Stable and variant angina 88
41 Pharmacological management of stable and variant angina 90
42 Acute coronary syndromes: Unstable angina and non-ST segment elevation myocardial infarction 92
43 Revascularization 94
44 Pathophysiology of acute myocardial infarction 96
45 Acute coronary syndromes: ST segment elevation myocardial infarction 98
46 Heart failure 100
47 Treatment of chronic heart failure 102
48 Mechanisms of arrhythmia 104
49 Supraventricular tachyarrhythmias 106
50 Ventricular tachyarrhythmias and non-pharmacological treatment of arrhythmias 108
51 Pharmacological treatment of arrhythmias 110
52 Pulmonary hypertension 112
53 Diseases of the aortic valve 114
54 Diseases of the mitral valve 116
55 Genetic and congenital heart disease 118
Self-assessment
Case studies and questions 120
Case studies answers 123
Index 126
A companion website is available for this book at: www.ataglanceseries.com/cardiovascular
Extra
Companion website features cases from this and previous editions, along with additional summary revision aids.