The Chemistry of Double-Bonded Functional Groups, Supplement A3, 2 Part Set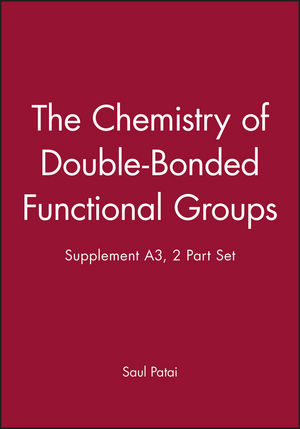 The Chemistry of Double-Bonded Functional Groups, Supplement A3, 2 Part Set
ISBN: 978-0-471-95956-4 April 1997 1894 Pages
Description
Double bonds are one of the key functional groups in organicsyntheses. This supplementary volume deals with advances inphysical organic chemistry, especially in MS, thermochemistry andphotochemistry. Applications include the use of double bonds inliquid crystals.

This volume is now available in electronic format from BooksOnline.
Table of contents
Partial table of contents:

Heteropolar Double Bonds (T. Hoz & H. Basch).

Mass Spectra of Double-Bonded Groups (T. Gaumann).

Dipole Moments of Compounds Containing Double Bonds (O.Exner).

Liquid Crystals with X=Y Groups (T. Hanemann & W. Haase).

Thermochemistry of Olefins, Carbonyl Compounds and Imines (S.Slayden & J. Liebman).

Photochemistry of Compounds Containing C=C Double Bonds (N.Haddad).

Nucleophilic Attack on Compounds Containing C=C, C=O or C=N Groups(P. Taylor).

Strained Olefins (J. Sandstrom).

The Thiocarbonyl Group (M. Molina, et al.).

Indexes.