The Chemistry of Organozinc Compounds: R-Zn, 2 Part Set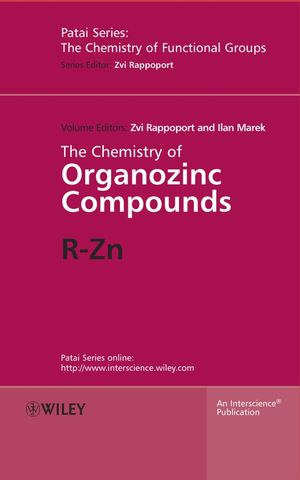 The Chemistry of Organozinc Compounds: R-Zn, 2 Part Set
ISBN: 978-0-470-09337-5 October 2006 1140 Pages
Description
The Patai Series publishes comprehensive reviews on all aspects of specific functional groups. Each volume contains outstanding surveys on theoretical and computational aspects, NMR, MS, other spectroscopic methods and analytical chemistry, structural aspects, thermochemistry, photochemistry, synthetic approaches and strategies, synthetic uses and applications in chemical and pharmaceutical industries, biological, biochemical and environmental aspects.

To date, over 110 volumes have been published in the series.

Recently Published Titles

The chemistry of the Cyclopropyl Group (Volume 2)

The chemistry of the Hydrazo, Azo and Azoxy Groups (Volume 2, 2 parts)

The chemistry of Double-Bonded Functional Groups (Volume 3, 2 parts)

The chemistry of Organophosphorus Compounds (Volume 4)

The chemistry of Halides, Pseudo-Halides and Azides (Volume 2, 2 parts)

The chemistry of the Amino, Nitro and Nitroso Groups (2 volumes, 2 parts)

The chemistry of Dienes and Polyenes (2 volumes)

The chemistry of Organic Derivatives of Gold and Silver

The chemistry of Organic Silicon Compounds (2 volumes, 4 parts)

The chemistry of Organic Germanium, Tin and Lead Compounds (Volume 2, 2 parts)

The chemistry of Phenols (2 parts)

The chemistry of Organolithium Compounds (2 volumes, 3 parts)

The chemistry of Cyclobutanes (2 parts)

The chemistry of Peroxides (Volume 2, 2 parts)

The chemistry of Organozinc Compounds (2 parts)

Forthcoming Titles

The chemistry of Anilines

The chemistry of Organomagnesium Compounds

The Patai Series Online

The Patai Series is available in electronic format on Wiley InterScience. All new titles will be published as online books and a growing list of older titles will be added every year. It is the ultimate goal that all titles published in the Patai Series will be available in electronic format.

For more information see under Online Books on: www.interscience.wiley.com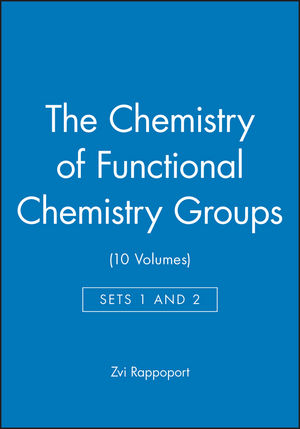 This item: The Chemistry of Organozinc Compounds: R-Zn, 2 Part Set
The Chemistry of Organolithium Compounds: R-Li, Volume 2
The Chemistry of Organolithium Compounds, 2 Volume Set
The Chemistry of Organozinc Compounds: R-Zn, 2 Part Set
The Chemistry of Peroxides, Parts 1 and 2, 2 Volume Set
The Chemistry of Phenols, 2 Volume Set
The Chemistry of Cyclobutanes, 2 Volume Set
The Chemistry of Anilines, Part 1
The Chemistry of Organic Silicon Compounds, Volume 3
The Chemistry of Organic Germanium, Tin and Lead Compounds: C-Ge C-Sn C-Pb, 2 Volume Set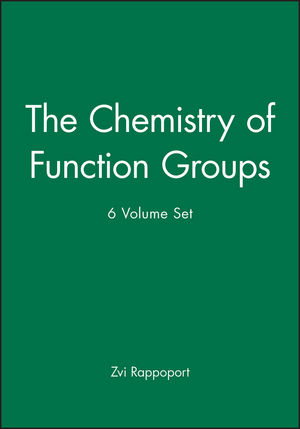 1 The reaction mechanisms of zinc enzymes (Gudrun Schürer, Timothy Clark and Rudi van Eldik).
2 Structural organozinc chemistry (Johann T. B. H. Jastrzebski, Jaap Boersma and Gerard van Koten).
3 Thermochemistry of organozinc compounds (Joel F. Liebman and Suzanne W. Slayden).
4 67Zn NMR, a tool for coordination chemistry problems (Athanassios G. Coutsolelos and Georgios A. Spyroulias).
5 Mass spectrometry of organozinc compounds (Sergiu P. Palii and Dmitri V. Zagorevskii).
6 Dynamic behavior of organozinc compounds (Albert Guijarro).
7 Cyclopropanation mediated by zinc organometallics (André B. Charette).
8 Functionalized organozinc compounds (Paul Knochel, Helena Leuser, Liu-Zhu Gong, Sylvie Perrone and Florian F. Kneisel).
9 Photochemical transformations involving zinc porphyrins and phthalocyanines (Mathias O. Senge and Natalia N. Sergeeva).
10 Synthesis and reactions of allenylzinc reagents (James A. Marshall).
11 Palladium- or nickel-catalyzed cross-coupling reactions with organozincs and related organometals (Ei-ichi Negishi, Qian Hu, Zhihong Huang, Guangwei Wang and Ning Yin).
12 Enantioselective addition of organozinc compounds (Kenso Soai, Tsuneomi Kawasaki and Itaru Sato).
13 Rearrangements of organozinc compounds (Varinder K. Aggarwal and Knut Sommer).
14 1,1-Bismetallated species (Seijiro Matsubara).
15 The chemistry of organozincate compounds (Toshiro Harada).
16 Fluorinated organozinc reagents (Charles R. Davis and Donald J. Burton).
17 Electrochemical generation and reaction of zinc reagents (Jacques Périchon, Corinne Gosmini and Olivier Buriez).
18 The chemistry of zinc enolates (Marco Lombardo and Claudio Trombini).
19 Carbozincation of alkenes and alkynes (Edwige Lorthiois and Christophe Meyer).
Author index.
Subject index.